Local entrepreneur designs fashionable clothes with Houston's heat and humidity in mind
Dec 19, 2019, 11:14 am
Cotidié's fabrics are lightweight and moisture wicking — similar to exercise clothing — making the pieces conducive to the Houston heat and humidity. Lauren Marek/Cotidié
Houston is a humid subtropical climate — the majority of the year brings hot and sticky weather. Local entrepreneur Kristina Haag found herself struggling to find traditional clothing that is comfortable in the Texas heat, so she created it herself.
"With Cotidié, it is all about the functionality of the clothing," says Haag, founder of the clothing line Cotidié. "It is more traditional items, but the use of technical fabrics is our differentiating factor."
The online retailer, which launched in June 2019, offers pieces specifically tailored for women who are up against Houston's hot and muggy climate.
The line offers dresses, jackets, pants, skirts, and tops, ranging between $60 and $200 in price. The fabrics, sourced from Italy and Taiwan, provide breathable comfort, along with an elastic, structured fit for a more tailored look. All items are moisture wicking and machine washable. The line uses three different fabrics: LunAir, 88 percent polyester and 12 percent spandex; SolaSmooth, 73 percent nylon and 27 percent elastane; and StellaForm, 59 percent nylon and 41 percent elastane.
"Everything we use on the line is athletic technical fabric that you would typically find in workout attire, but I've repurposed these fabrics to use in a contemporary womenswear line," Haag tells InnovationMap. "I wanted to create a more foundational capsule clothing collection that women can draw their own inspiration from."
Haag, originally from Houston, studied history and business at Rice University before moving to London to attend the British School of Fashion. Following a few years of work at a London-based fashion PR firm, she returned to Texas. Haag was working a corporate job that required extensive job-site visits.
"I thought, how is there not more stylish women's clothing on the market that is comfortable and functional," says Haag.
The name Cotidié, which means "daily" or "every day," encompasses Haag's desire to create clothing that can be worn at work, for travel, on weekends, and more. Haag was determined to find comfortable professional clothing that held up in Houston's heat and humidity and created Cotidié to bridge the gap between technical performance wear and business attire, introducing a new kind of clothing for stylish women on the go.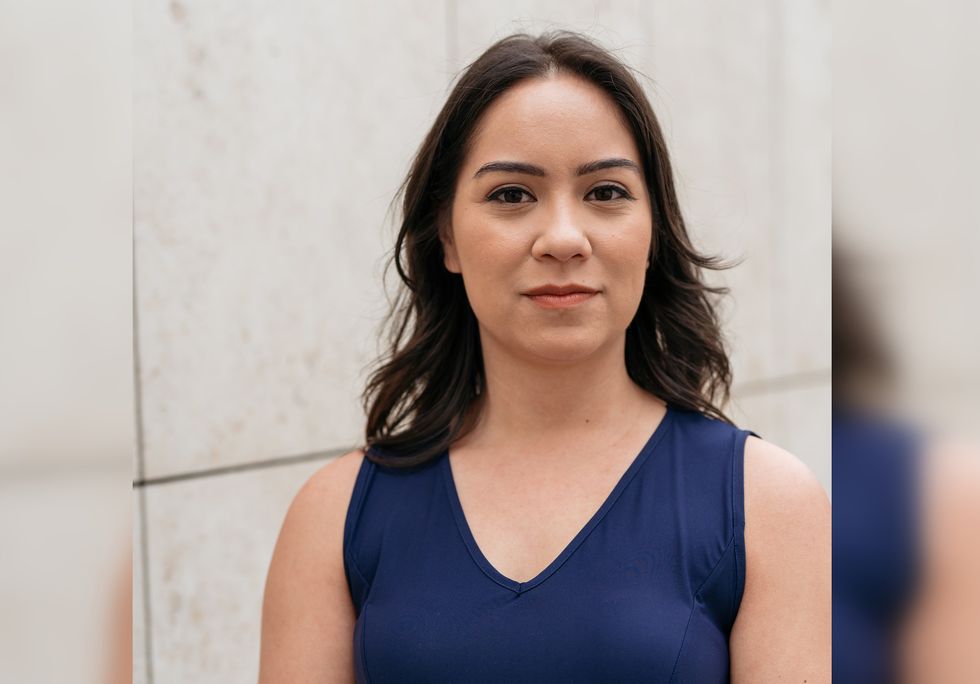 Kristina Haag worked a corporate job that required her to run around Houston. She thought of her new fashion line out of wanting stylish clothes conducive to Houston's climate. Lauren Marek/Cotidié
Haag worked for over a year testing different fabrics and designing each piece to blend feminine style with technical performance. Haag works with Sew Pro Production, an apparel manufacturer based in Houston to develop the pieces.

For Cotidié's fall and winter line, which launched in October 2019, Haag adapted the pieces for cooler weather as the temperature shifts.
Haag plans to expand the marketing of Cotidié to a national scale in the next year. The company currently has two employees and has plans to begin fundraising efforts in 2020. The company currently ships internationally.