Houston health tech startup using AI in palliative care scores $256,000 grant to test its product
Sep 28, 2021, 10:41 am
Koda Health, Houston, uses AI to help guide difficult conversations in health care, starting with end-of-life care planning. Image via kodahealthcare.com
A new Houston-based digital advanced care planning company is streamlining some of the most difficult conversations in the health care industry around palliative care.
Founded by Tatiana Fofanova, Dr. Desh Mohan, and Katelin Cherry, Koda Health uses AI to help patients create advance medical care directives and documents—such as a living will—through an easy to use web-based interface.
Koda Health uses a conversational platform where users can enter information about their values, living situations, quality of life wishes, and more while learning about different care options at their own speed. It also uses a proprietary machine learning approach that personalizes audio-video guided dialogue based on the patient's individual and cultural preferences.
The app then autogenerates legal and medical documents, which patients can notarize or electronically witness the forms through the app or on their own.
According to Fofanova, who earned her PhD in in Molecular Medicine at Baylor College of Medicine in Houston and now acts as the company's CEO, what historically has been a time consuming and expensive process, through Koda Health, takes an average of 17 minutes and is completely free of charge to the end user.
"We hope to reduce any outstanding barriers to access that might exist," Fofanova says. "It is very frequently the oldest and the poorest that are the highest utilizers of health care that don't have access to these solutions."
The app is also projected to save health care systems roughly $9,500 per patient per year, as it allows for hospitals and organizations to better plan for what their patient population is seeking in end-of-life-care.
The B2B platform was born out of the TMC's Biodesign Fellowship, which tasked Koda's founding members with finding solutions to issues surrounding geriatric care in the medical center. In March 2020, Koda incorporated. Not long after ICU beds began to fill with COVID-19 patients, "galvanizing" the team's mission, Fofanova says.
"It was no longer this conceptual thing that we needed to address and write a report on. Now it was that people were winding up in the hospital at alarming rates and none of those individuals had advanced care planning in place," she says.
After accelerating the development of the product, Koda Health is now being used by health care systems in Houston, Texas, and Virginia.
The company recently received a Phase I grant of $256,000 from the National Science Foundation, which will allow Koda to deploy the platform at Atrium Health Wake Forest Baptist and test it against phone conversations with 900 patients. Fofanova says the company will also use the funds to continue to develop personalization algorithms to improve Kona's interface for users.
"We want to make this a platform that mimics a high quality conversation," she says.
After Koda completes the Phase I pilot program it will then be eligible to apply for a Phase II award of up to $1 million in about a year.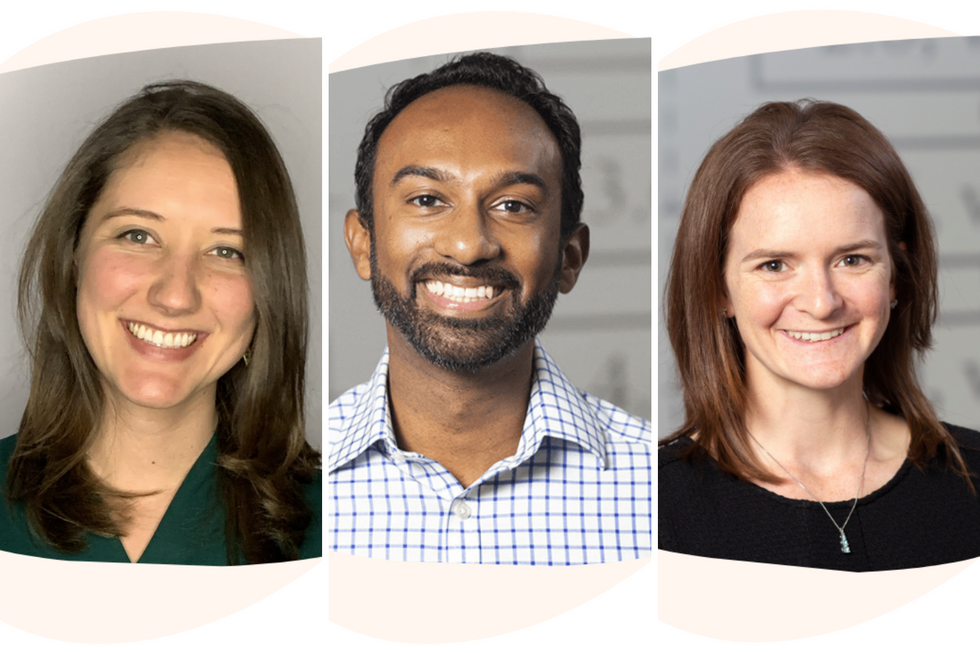 Koda Health was founded by Tatiana Fofanova, Dr. Desh Mohan, and Katelin Cherry. Photos via kodahealthcare.com