Houston-based space tech company to go public via SPAC merger
Sep 21, 2022, 12:43 pm
The deal between Intuitive Machines and a SPAC is expected to close in the first quarter of 2023 and would value the combined company at $815 million. Photo courtesy of Intuitive Machines
A Houston-based space exploration company that's been tapped by NASA to take cargo to the moon plans to go public through a SPAC merger with a New York-based shell company.
Intuitive Machines LLC, founded in 2013, aims to merge with New York City-based Inflection Point Acquisition Corp., a special purpose acquisition company (SPAC). Once the merger is completed, shares of the combined company (Intuitive Machines) will trade on the Nasdaq stock market under the ticker symbol LUNR.
The deal, expected to close in the first quarter of 2023, would value the combined company at $815 million.
Inflection Point Acquisition's IPO last year raised $300 million. A SPAC is a publicly traded shell company without any business operations whose only goal is to merge with or acquire another company.
Intuitive Machines is experiencing dramatic growth in revenue. The company forecasts annual revenue will reach $102 million in 2022, $291 million in 2023, and $759 million in 2024. The company has a backlog of $262 million in NASA contracts.
NASA announced in 2019 that Intuitive Machines was one of three companies being awarded contracts to carry cargo to the lunar surface ahead of an intended mission to the moon. That mission, dubbed Artemis, won't happen until at least 2026. Intuitive Machines also plans to deliver commercial payloads to the moon.
Intuitive Machines is developing lunar landers and other space-related technology and equipment.
"We are building on a nearly 10-year operating history, a solid foundation of contracted business, a highly capital efficient model, and fiscal discipline, [which are] hallmarks we intend to continue," says Erik Sallee, chief financial officer of Intuitive Machines.
To fuel growth, the combined company has secured commitments for $55 million in capital from entities affiliated with Inflection Point's sponsor and from a founder of Intuitive Machines, as well as a $50 million equity facility from CF Principal Investments LLC, an affiliate of financial services provider Cantor Fitzgerald & Co.
In another move to support growth, Intuitive Machines is relocating next year from its current facility at the Houston Spaceport to a new 125,000-square-foot building on a 12.5 acres at the spaceport.
Kam Ghaffarian, co-founder and executive chairman of Intuitive Machines, says the company seeks to capitalize on an expanding space exploration market whose major players include SpaceX, Virgin Galactic, Blue Origin, and Orbital Sciences.
Steve Altemus, co-founder, president, and CEO of Intuitive Machines, says his company hopes to become "a foundation of U.S. space exploration."
"Each successive mission will allow us to extend our advantage as we deliver satellites to lunar orbit, deliver systems to the lunar surface, and collect critical scientific and engineering data," Altemus says.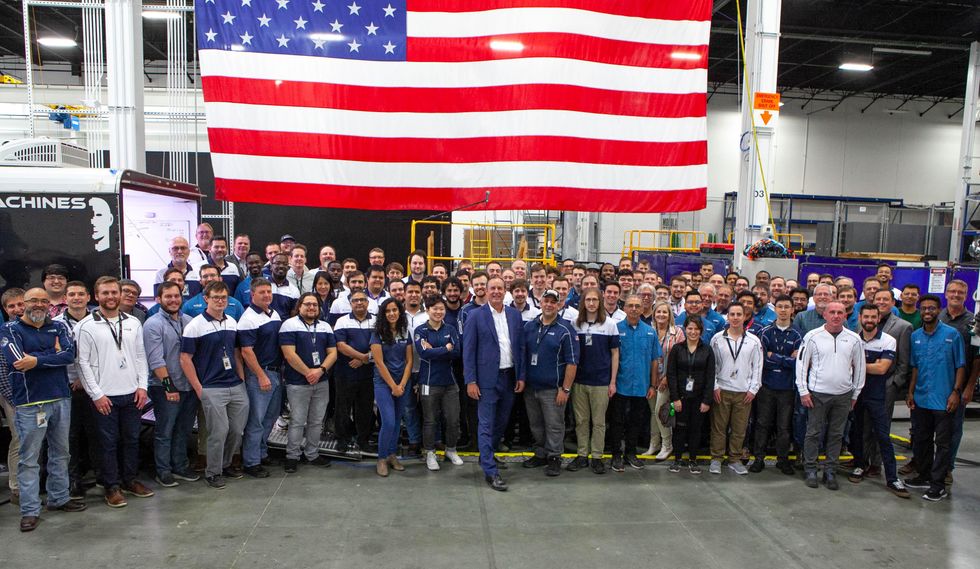 Intuitive Machines is based in the Houston area. Photo courtesy of Intuitive Machines