Houston organization is providing access to special education resources 'anywhere there is Wi-Fi'
Apr 2, 2019, 11:24 am
Houston-based Incuentro provides online education with individuals with Autism, ADD, Asperger's, social anxiety, or learning differences — as well as parents or employers. Getty Images
A Houston-based online platform is hoping to provide easy access to special education resources to support individuals with special needs, as well as their employers, teachers, and caregivers — or anyone with internet access.
The online program, Incuentro, launched April 1, coinciding with the start of Autism Awareness Month. The first 15 classes are slated to go live in June. These virtual classes are intended to be a resource for people from first grade all the way through adulthood who are coping with Autism, ADD, Asperger's, social anxiety, or learning differences.
"Over 30 students participated in the pilot program over the past 9 months," says Wendy Dawson, founder of Incuentro. "I've seen students relate to the lessons, make connections with the topics, engage in peer conversation, and find support and learning in a safe environment."
Students learn and practice skills applicable to school, employment, and social situations in the virtual company of a qualified teacher and peers from the comfort of their own home. The teaching style is as interactive as possible and requires participants to engage in discussion.
Life education
Dawson says that students will get the most out of this experience if they are verbal, able to sustain attention, and participate in a video conference forum. Hour-long classes focus on friendship, behavior, social interactions in the primary and elementary years, while tweens focus on making peer connections.
"We want to provide help upfront to reduce the anxiety and depression that we commonly see later in life," Dawson says.
Teen classes set up students with skills for future employment and transitions post-high school. Adult learners benefit from job skills and workplace behavior norms.
Students who are employed or looking for employment learn about topics like conversing with coworkers and supervisors, appropriate social interactions, and understanding the rules of the workplace. Equally important, teachers discuss with participants ways that they can be their own advocate as they maneuver through society.
A focus on inclusion
Incuentro offers employer training as well, to help foster a climate of inclusion in the workplace, to discourage a lowering of expectations when accommodating employees with Autistic traits. Classes give supervisors understanding and practicalities that will foster a positive environment for employees who are also enrolled in the course.
"Employers are coached on topics such as: understanding a literal mind, being factual, making simple accommodations like visual schedules, delivering information in a low-stress manner, and understanding learning styles," Dawson says.
Incuentro helps to bridge the gap between the service and people in need through technology.
"There is a huge disconnect between the people who need services, and the actual resources. Many times they don't know where to go, or are too far away to access them."
All you need is internet access
Accessing the classes remotely removes the barrier of accessibility for people in rural areas, as well as people who would rather not drive to a class after a long day at work or school. Oftentimes, students will feel more comfortable participating in a one-hour, online discussion with 5-7 peers, rather than enduring the social pressures of a classroom setting.
"Our desire is to bring access to special education expertise to anywhere there is Wi-Fi," says Dawson.
Incuentro curriculum is created by Education Visionary Specialist Brandi Timmons, a Board Certified Behavior Analyst (BCBA) and a Licensed Behavior Analyst (LBA). Classes are taught by expert teachers who specialize in special needs education.
Family business
Dawson's passion behind Incuentro was inspired by her step-son, Cameron Dawson, who was diagnosed with Autism at the age of two.
"There were no services to fit his needs available in the market," Dawson says, "so we've spent 10 years advocating and learning, and figuring out how to best bring services to people who need them."
Cameron participated in the Incuentro pilot program while attending Texas Tech, and in May he will be graduating with his degree in Communication Studies. Upon returning home to Houston, he will be seeking a job in one of many local churches, where Dawson says he has experienced love and support throughout his life.
As a mother of a child with Autism and advocate for people with special needs, Dawson has seen the challenges faced by parents. Parents not only must navigate the ups and downs of school life and home life with their child each step of the way, but also plan next steps past high school graduation, and long-term care, if necessary. Incuentro helps to facilitate the discussion and provide resources for caregivers wanting to learn what options are available.
With April designated as Autism Awareness Month, Incuentro seeks to partner with organizations serving special needs populations, such as school districts, health clinics, or Autism support networks, and reach the people who need it most. Incuentro has pledged to donate a portion of its profits to a Houston non-profit that offers in-person classes for people with special needs, Social Motion. At its heart, Incuentro intends to be an answer to the question: how do we set individuals with special needs up for success, and help give them the tools to live an independent and fulfilling life?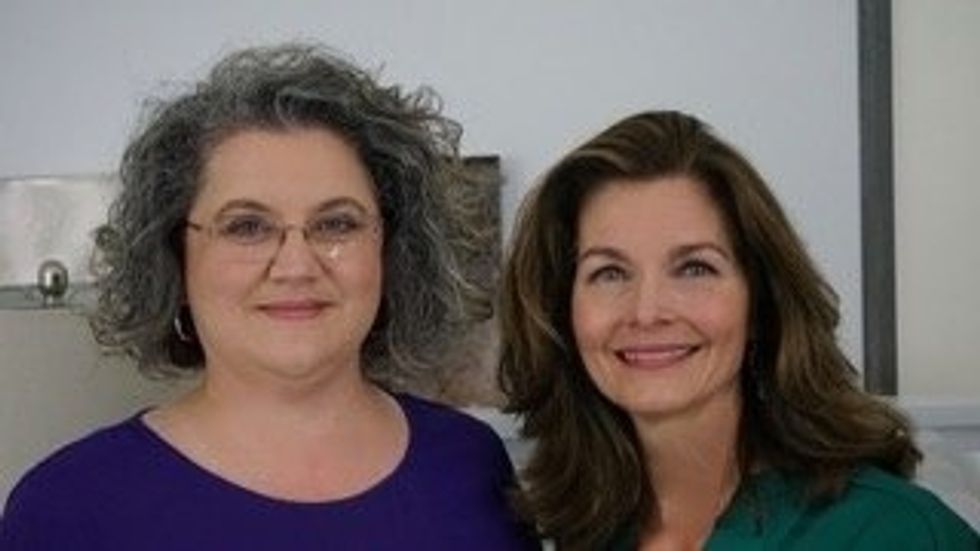 Brandi Timmons (left) and Wendi Dawson, Incuentro founderCourtesy of Incuentro