How this Houston company is staying one step ahead of Google
Feb 19, 2019, 8:05 am
Houston-based Edgy Labs is working on AI technology to constantly stay ahead of search engine technology. Pexels
Where's the best place to hide a dead body? According to Alexander De Ridder and other search optimization experts, it's on the second page of Google where no one ever goes.
Jokes aside, search engine optimization has become a serious business as people have pivoted from making their own decisions based on knowledge acquired or resources available to trusting entities to decide for them, De Ridder explains.
"More and more of our lives are governed by decisions we are outsourcing," De Ridder says. "For example, maybe you jumped in the car this week and you entered a destination. The GPS told you where to turn — you don't question that."
While convenient, the challenge this new normal presents companies is how to make clear to the internet that that their information is worthy of being on the first page of search results. De Ridder co-founded Houston-based Edgy Labs with Michael Umansky and Gary Haymann to figure out for themselves how this "black box" decision making works — and where it's going.
"Our take was let's build a laboratory to understand how that rank or AI works and build our own platform around it and get better insights on how that black box thinks," Umansky, who is CEO of the company, says.
Edgy Labs has two sides to it. At its core, the company is a blog covering trends and research in science and technology that acts as an SEO-testing platform, or lab. Once the team has the developed technology, it's able to provide its best practices and tools to clients.
"We think about innovation in a practical way as something that you need to live out the truth yourself, before you go out and apply it to other people," explains De Ridder, who also serves as CTO of the company.

The SEO business is projected to be an $80 billion industry by 2020, Umansky says, and its evolving from text focused to including voice and video in the search process. When Edgy Labs launched, the focus was on creating content that was primed to be picked up by Google. Through this process, the company grabbed the attention of some large Fortune 100 accounts.
"What we saw was if we applied these same techniques to a large brand, there was a massive uptake in success for the content and the site itself," Umansky says. "What that's led us to want to do is take the power of the technology and put it back in the hands of content creators."
Edgy Labs has found that the key to SEO and marketing online is to be content focused and put the users — and the information they are seeking — first.
"What's been really great is I think we've tried to turn the process upside down and make sure the client is creating content that's data driven insights — not just taking marketing slogans and terms and dropping it in the content, which was the norm," says Haymann, who leads the client-facing business.
Just like any technology, search is constantly evolving. Search engines used to scan the internet to suggest articles to answer your questions. Now, Google is taking information from those articles and regurgitating it for you, rather than sending you to a third-party website. A casualty of that is web traffic for the site that has that information.
This shift is a result of voice searching growth. One in five searches is done via voice search — think: Alexa or Siri — and 40 percent of adults use voice search daily, De Ridder says. With this type of search process, there can only be one response — not pages of results, like web searching. De Ridder says that because of this growth in audio searching, videos will become a more favorable search result.
Another growing digital trend, De Ridder says, is progressive web app pages becoming more useful in search than native apps. These PWAs act and feel like mobile apps, but without requiring the user to download anything. Where this trend metabolized is when the ".app" domains were released. Edgy Labs relaunched its webpage to being a mobile friendly progressive app page and has seen more engagement from its users — longer time on site, lower bounce rates, higher conversion rates.
"As websites want to survive and remain relevant, it will be about providing good information so that they can optimize themselves for voice search, video, and also have amazing experiences of native app-like quality," De Ridder says.
While SEO technology and practices evolve, Edgy Labs hopes to stay at the forefront of the industry.
"It's kind of like we're at the top of the mountain, and the mountain is always getting taller and taller. To stay on the cutting edge, you always have to keep climbing and climbing," De Ridder says. "But, if you're up there, you've got a beautiful view, and that allows you to look into the world and see the opportunity that's associated with that change."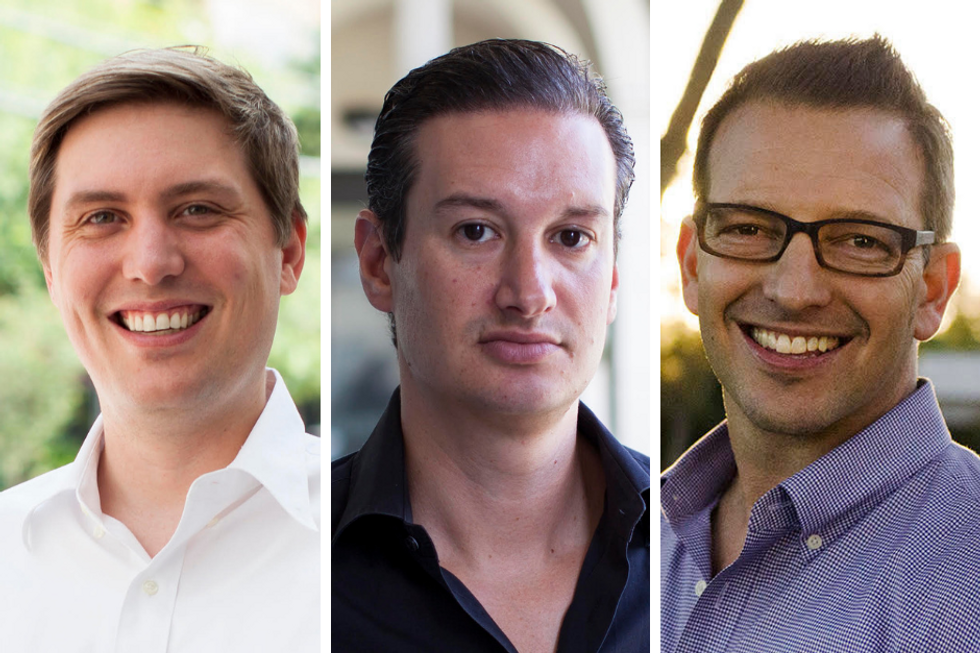 Alexander De Ridder (left), Michael Umansky (center) and Gary Haymann founded Edgy Labs in 2016. Courtesy of Edgy Labs