Houstonian launches her podcast network to talk about the tough stuff
Oct 18, 2019, 1:21 pm
Lemonada, founded by Houstonian Stephanie Wittels Wachs and Jessica Cordova Kramer, wants to air content that takes an unfiltered approach to life. Pexels
Even before Stephanie Wittels Wachs' Lemonada Media launched its first podcast on September 25, the network got a shout-out from none other than the New York Times, which listed its "Last Day" offering as one of seven new podcasts to listen to this fall.
The media company, which Wachs built with award-winning podcaster Jessica Cordova Kramer, takes aim at the human experience in all its messiness: addictions, the troubles of raising decent children, how we develop empathy. Its three shows will be distributed by The team has partnered with Westwood One on distribution, and upcoming guests include such star power as Jamie Lee Curtis, comedians Sarah Silverman, Tig Notaro, and Aziz Ansari, author Reza Aslan, actress Mara Wilson, activist DeRay McKesson, songwriter Justin Tranter and filmmaker Kulap Vilaysack.
None of it, however, is what Wachs set out to do in her life. But she knows it's exactly where life led her.
"This is everything I've done in my whole life," she tells InnovationMap. "It sort of combines my writing and my education background and my artistic background and some voiceover background and my activism. It's everything."
A part of that everything is her brother Harris Wittels, a creative force in his own right, known for his works on Parks and Rec, who died of a drug overdose (Wachs used her reaction to that to write Everything is Horrible and Wonderful, which not only chronicles Harris' addiction, but also how she processed her grief). He was a podcaster as well, and Wachs says this venture helps continue that legacy.
"But it's also about activism," she says. "About opioids and every other epidemic we're going through that feels so unsolvable. And that's how I roll."
Since her brother's death, Wachs has looked for ways not only to process the grief and anger she felt, but also found herself more and more drawn to finding ways to educate people and advocate for better understanding of addiction and ways to treat it. When her two young children were diagnosed with hearing disorders, she found herself advocating for having hearing aids covered by health care. So, while she may not have wanted to step into an activist role, once she found herself there, she threw herself into it with her characteristic energy and intelligence and not a little humor.
"Our goal is to make shows that help people get out of bed in the morning, that help people deal with the hardest shit in their lives," says Kramer in a press release announcing the podcast launch.
Kramer and Wachs met in 2017. Kramer had heard Wachs on another podcast, and as the two continued talking, they realized they were developing a shared mission. Lemonada takes its name from the idea of taking life's lemons and making them into lemonade – incorporating the bitter and the sweet.

To make the transition from writer and artist to media maven, Wachs drew on her already established strengths of community building and a desire to create high-quality content.
"We really wanted to bring a community flavor into the mix," she says. "And, as a women-run company, it was huge for us to have women's voices."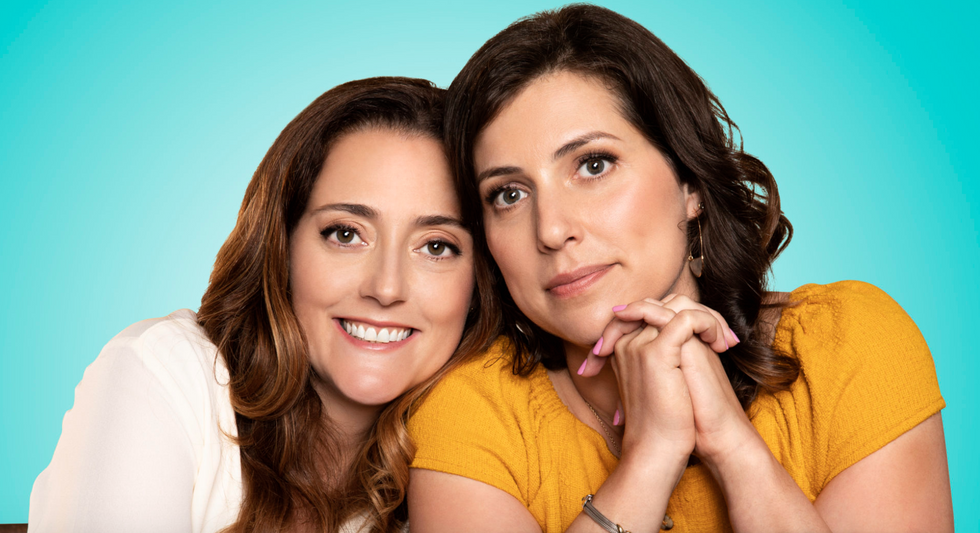 Houstonian Stephanie Wittels Wachs and Jessica Cordova Kramer launched Lemonada this fall. Photo via lemonadamedia.com
The result is a podcast network that brings to bear what Wachs calls incredible talent. The starting lineup includes "Last Day," which launched Sept. 25. Wachs confronts massive epidemics with humanity, wit, and a quest for progress. Starting with the opioid crisis, the show zooms in on a person's last day of life, exploring how they got there and how we, as a society, have gotten here.

Debuting on October 24, "As Me with Sinéad" explores the concept of empathy and how listening brings us closer. Academic, TED alum, and advocate Sinéad Burke leads candid conversations with diverse, notable guests who explain what it's like to be them. They challenge us to confront our biases, deepen our humanity, and feel empowered to impact and change the world around us.
And later in the year, with a debut date of November 26, comes "Good Kids: How Not to Raise an A**hole." For 15 minutes each week, a diverse set of parents, teachers, policy makers, and world shapers grab the mic and offer relevant advice, rants, and reflections. "Think of this as a quasi-manual for how to raise better humans," read the show's description in the press release.
"It feels almost non-profit in flavor," Wachs says of the endeavor. "I mean, we are a for-profit company, but it's mission driven, and that was important to both of us."
That mission, it seems, has also taken over the Wachs household. Over the summer, Wach's husband, Mike Wachs quit his job to work full-time with Lemonada, and Kramer's husband works in Lemonada's leadership, as well. That sense of family is galvanizing to Wachs, who loves that the new venture gives her time and space to watch her children grow. She's also crazy about how technology – everything from audio editing programs to conference calling to texting and FaceTime – has made Lemonada possible. Kramer took a safari as she and Wachs were planning the launch.
"I love that!" says Wachs. "We put everything on Slack and even though she was halfway around the world, it was like she was in my house."
The partnership with Westwood One gave Wachs her own tiny studio at 104 KRBE.
"It's really, truly miraculous," she says of the way the business was built. "And I know we all bring all these great gifts to the table. Mine is that I am able to talk all day," she quips."
Both she and Kramer are baking on the idea that there are a lot of people out there who feel like they do, that it's easier to survive life's challenges when you know you're not alone, who are ready to tune in and listen.