Houston startup is using technology to connect parents to local summer programs for their children
May 21, 2019, 1:31 pm
Camppedia, a Houston-based startup, can help match kids to summer camps all around town. Educational First Steps/Facebook
Tudor Palaghita and his sister Ana are both parents and both busy professionals. And both used the same word when it came to finding camps to help their kids pass the long, steamy summer: painful.
"We're working parents, we're strapped on time, but we want to make sure we give our kids enriching experiences," explains Ana. "One spring, we were going through the [camp search] process, and we talked about how difficult it was. And the next spring, we said, there's something here. We feel this pain, our friends feel this pain, and no one is helping us. Why don't we solve our problem ourselves?"
And that's exactly what they did. The duo used their business and technology backgrounds — Ana has an MBA from Northwestern University and built a successful career in a major financial institution, and Tudor has his Ph.D. in aerospace engineering from Georgia Tech — to launch Camppedia.com. The site is intended to be a one-stop shop for parents looking for camps for their children.
The tool launched in March of 2019, coinciding with spring break. Currently, it offers options throughout central Houston. Parents can select camps for their children based on interests, their ZIP codes, cost or even those that offer extended hours for moms and dads with full-time jobs.
"We believe the most important aspect to building anything is to understand your users," says Tudor, who left his research and development job at a major oil and gas services company to work full-time on Camppedia. "Before we launched, we did a lot of interviews and talked to a lot of parents, and then hand sketched prototypes to better convey our idea."
The pair went one step further after that, speaking with camp providers, seeking input about not only their products, but also the issue they faced in terms of marketing or registration. Following that fact-finding mission, they built Camppedia to show as many options as possible for families who want to book activities, as well as giving users the option to build their own calendars, save favorite options and see what camps actually have spots available. When parents select a camp, they are then driven to the individual camp's website to book.
Development on Camppedia, which is a member company at Station Houston, began last September, when the duo began looking at what to include on the site and finding partners who could assist them in building it.
"We looked at a bunch of different paths from a technology perspective," says Ana, who works on the site from her home in Virginia. "Because you can build the sort of the fancy, what I'd call destination-technology architecture, or you could build something scrappier, and I think we landed on something scrappy because we are still learning. Chances are [going forward] we'll change quite a bit."
Camppedia is built on WordPress, and currently features more than 275 camps from large to small. Tudor and Ana have been making improvements ever since, but the response has been enthusiastic. Parents, the pair say, have loved having so much information in one place. And camps have actually come to them, seeking information about how to be listed. That led to the creation of a camp partnership category, where camps can pay to use certain features on Camppedia's site, such as the ability to reach out to interested parents.
Going forward, the duo look forward to further building Camppedia as a resource. They're looking at adding reviews and experiences from parents, as well as finding ways to take the concept nationwide. But they're really happy with how the site has grown and the response they've had. The business, they insist, is designed to be a service that will support parents as they try to make the best decisions they can for their children.
"While the road ahead is daunting," says Tudor. "We are super excited about the possibility of building something truly useful for working parents who nowadays are struggling with so many competing priorities and whose needs seem to be somewhat overlooked by the digital reinvention coming out of Silicon Valley."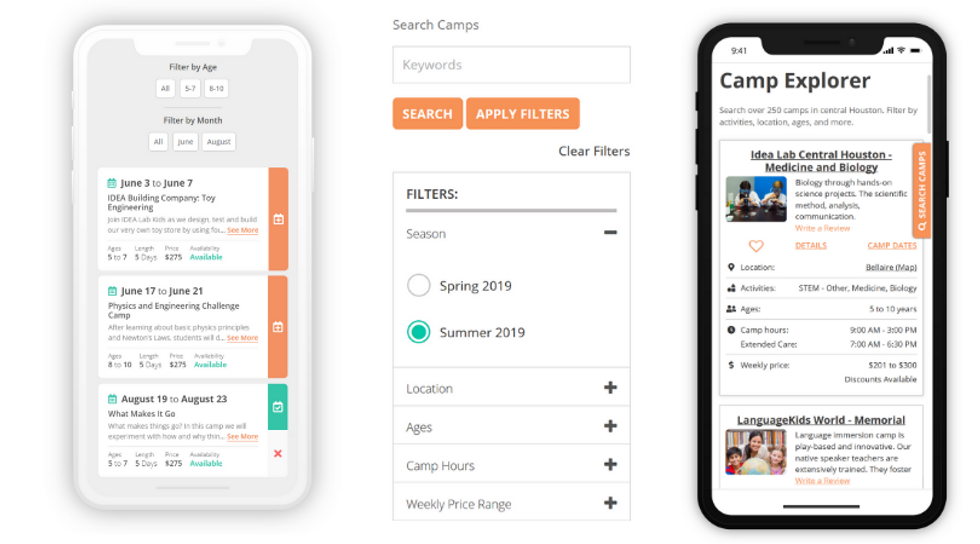 Photos courtesy of Camppedia