Houston sees significant jump in annual venture capital investments, according to new data
Jan 14, 2019, 2:29 pm
The city of Houston still lags behind Dallas and Austin when it comes to venture capital funds raised but did outshine compared to its 2018 numbers. Getty Images
While Houston fell behind Austin and Dallas when it came to amount of venture capital raised last year, the Bayou City still closed out 2018 with more funds raised than it reported in 2017, according to Crunchbase data.
Houston had a reported $372.8 million in investments in 77 known deals across 2018. In 2017, Houston had 95 deals reported but with a smaller total of funding dollars — $257.7 million — which gives Houston a 45 percent increase year over year.
Compared to other Texas metros, Houston still lags behind. Austin reported $1,285.5 million and Dallas companies had $601.8 million. These figures reflect only the reported deals to Crunchbase.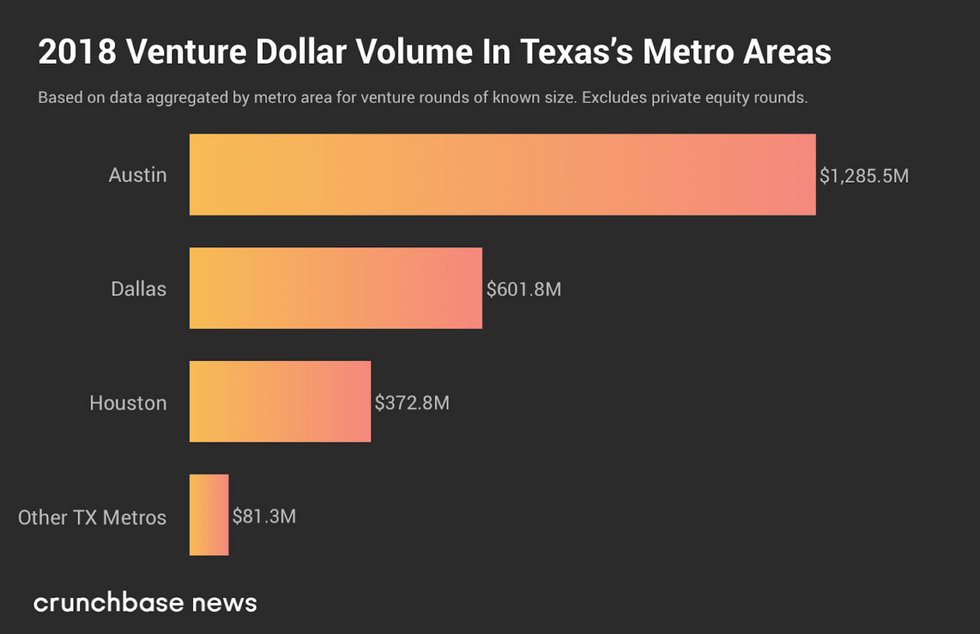 Photo via news.crunchbase.com
Even though 2018 overall shows Austin had a huge lead, in the third quarter of last year, Houston reported a similar amount of VC funds as Austin. In Q3, Houston startups pulled in $138.8 million — 39.2 percent of the state's entire VC funding — while Austin startups reported receiving $150.6 million — 42.6 percent of the funds, according to Crunchbase.
The fourth quarter was a slightly different story. Houston still edged out Dallas, but Austin took a significant lead. Houston had a reported $121.4 million from 11 reported VC deals, compared to Dallas' $101 million and Austin's $299.9 million. For Houston, the largest 2018 deal took place in Q4. Apex International, and oil and gas company, raised $75 million.
Austin-based Capital Factory's co-founder, Joshua Baer, tells Crunchbase that it will take some time for Houston's VC economy to catch up to Austin's, but that he doesn't think there's any reason it couldn't happen. Capital Factory, which has contributed to some Houston startups, recently announced it has preleased space in Houston-based The Cannon's new 120,000-square-foot space that's expected to deliver in spring.
Baer tells Crunchbase that Houston's biggest problem is access to venture capital — something that isn't rare of a problem at all. But Houston has a unique opportunity too.
"What Houston has that most places don't is a lot of corporate VCs," Baer says to Crunchbase. "Almost every energy company headquartered in Houston has a venture arm. They tend to fund companies that are Series B and later… so not the seed-stage stuff that is so popular in Austin and they do it all over the world, not just in Houston."
Five different Houston startups closed out 2018 with some funds. Here's how they plan to spend their investments.