Houston safe driving app backed by Memorial Hermann plans Texas expansion
Feb 25, 2019, 11:26 am
A Houston-based app, SAFE 2 SAVE, rewards drivers for putting their phones away while driving. Pexels
Between 2016 and 2017, distracted driving accidents in Harris County rose 62 percent, according to the Texas Department of Transportation, and a local hospital system is stepping up to keep drivers and their passengers out of their emergency rooms.
Memorial Hermann's critical care air transport service Life Flight is partnering with app SAFE 2 SAVE to reward drivers who keep their minds focused and their eyes on the road. The app launched in Houston in January of 2016, and wants to expand to other Texas markets this year.
"Part of our role as trusted providers of high-quality trauma care for our community is to educate and empower people across the region to change behaviors that cause preventable traumas," Tom Flanagan, Memorial Hermann's vice president of Trauma Service Line and System Integration, says in a press release. "We are tapping into the technology that has become such a large part of people's lives and coincidentally, a major part of distracted driving."
The idea for SAFE 2 SAVE began when College Station pastor's wife Marci Corry, who previously worked for Merck — a large pharmaceutical company, met with a college student she was mentoring to discuss how to help the student's peers detach from their phones. They agreed that incentives, particularly food, were the key, and not just for college kids. Corry was inspired by the news of a Chick-fil-A franchise that used a "Cell Phone Coop" challenge to get customers to talk to each other and rewarded them for restricting their cell use with free ice cream at the end of the meal. "Let's do an app version of that!" she remembers saying at the time.
That was October 2016. In that time, the app has blown up to include a fan base of more than 148,000 users. The company has 20 employees, including two based full-time in Houston.
"We're so fortunate we have a product that everyone is interested in," says vice president of operations, Christina Rudolph. "We have such a unique place in the market because everyone likes our app. There aren't a lot of products to change behavior and food is such a motivator."
The sales team at SAFE 2 SAVE works hard to make the rewards appealing to a broad swath of users, not just college students, so while there are discounts at Chick-fil-A and Dave & Buster's, it's far from the whole story. In Houston, food options include free dishes at State Fare and discounts at Cacao & Cardamom, but also 20 percent off at Rooftop Cinema Club or discounted classes at Pure Barre.
For every minute of driving over 10 miles per hour without using their phones, users rack up two points. As long as users set navigation apps and music before they start driving, they can use those, too.
They can also earn more by referring friends. With enough friends on board, it's easy to organize a competition, a great incentive for family and friends to keep each other in check about safe driving.
"To get people to live a life that's less distracted, there's a ripple effect for users," Corry says of the human connection the app helps to foster.
SAFE 2 SAVE launched in Houston in January of 2018. Before that, Corry connected with Memorial Hermann at a Lifesavers National Conference on Highway Safety Priorities.
"They said, 'We want this to stop happening. We don't want these people being pushed through our door on a stretcher and this is epidemic in Houston,'" Corry says.
The sponsorship means that whenever users in Houston open the SAFE 2 SAVE app, they are met with the words, "Is it really worth it? Memorial Hermann Life Flight says no." The hospital logo is accompanied by a photo the user downloads of themselves with a loved one to remind themselves why their behavior matters.
"Our first step is to continue to go deep in Houston. If you can win Houston, you can win anywhere — it's the most distracted city in the nation," Corry says.
Already expanded to San Antonio, the company hopes to expand to Austin and Dallas this year. Once they hit 500,000 users, online brands are likely to join, making it easier to go nationwide. But until then, Houston has some serious work to do.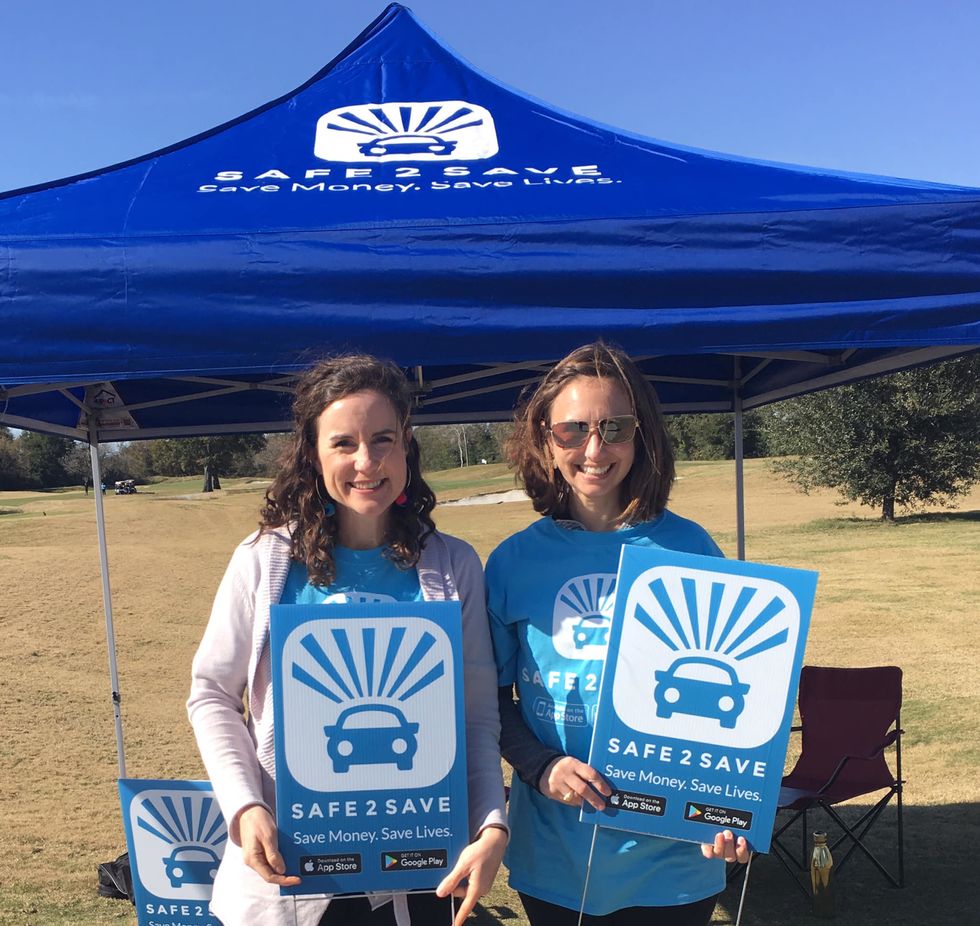 Marci Corry (left) started SAFE 2 SAVE in January of 2018. Christina Rudolph is the company's vice president of operations.