Growing Houston coworking space announces plans for new Galleria-area satellite
Jan 9, 2019, 3:45 pm
The Cannon – Post Oak will open on January 21, which is well ahead of its new space in West Houston that's currently under construction. Pictured is a rendering for the West Houston space. Courtesy of The Cannon
While The Cannon is currently in the midst of construction on its 120,000-square-foot space in West Houston, the coworking space has announced a new office that will open ahead its main campus.
The Cannon – Post Oak, located at 675 Bering Drive (near the Woodway Drive intersection), will open on January 21. The Cannon partnered with Houston-based commercial real estate group Griffin Partners to open the new location just west of The Galleria.
"The size and scale of Houston can create challenges for entrepreneurs and small businesses to make the trip out to our main campus, so we've recognized that it's increasingly important for us to grow our presence across the city and create more accessible solutions for Houston's entrepreneurs," says Founder and CEO Lawson Gow, son of David Gow, owner of InnovationMap's parent company Gow Media.
"We're especially thrilled to partner with an innovative group like Griffin Partners who shares our entrepreneurial spirit and dedication to Houston."
Griffin Partners has a portfolio of 4.5 million square feet Arizona, Colorado, North Carolina, and Texas valued at over $750 million. The team is similarly excited, as the partnership marks the company's first foray into coworking space.
"We are excited to work with The Cannon and expand our offerings to include coworking space, allowing us to reach a brand new population and create new opportunities for Houston's entrepreneurs, small businesses and startups," says Edward Griffin, the company's president and CEO.
Community members from the off-campus site will be a part of The Cannon's overall community and will have access to Cannon events and can even have access to the main campus for a few days a month. The Cannon has various membership options.
The floor plan shows 16 offices available for renting, as well as both open and dedicated desks in a shared area. There's also a kitchen, one conference room, and two smaller meeting rooms in the floor plan. According to the website, members will have 24/7 access, a gaming room, and unlimited coffee and tea.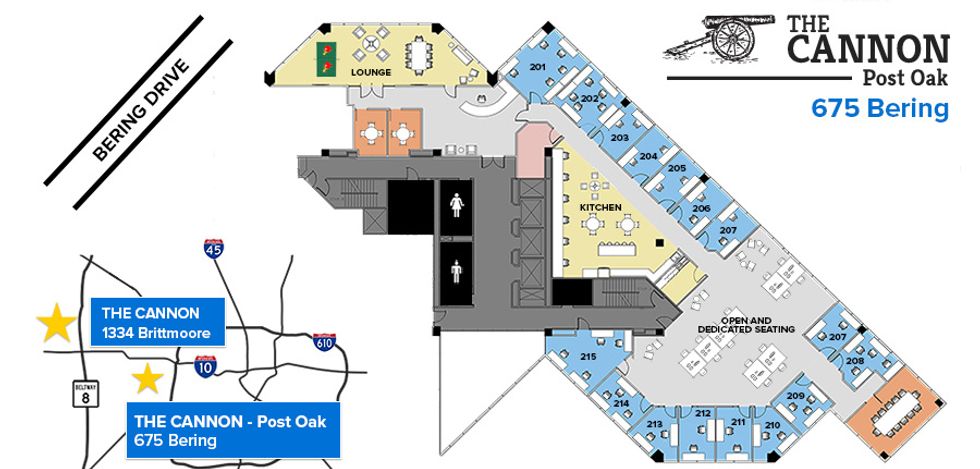 Via thecannonhouston.com