Houston founders serve up unique food finding tool
Nov 14, 2022, 11:40 am
The Gradi App's platform is like Yelp meets Instagram, and users can even receive compensation for their content. by Avery Padilla
When the Houston restaurant industry was in its biggest time of need, two Houstonians stepped up to the plate to deliver a tech tool for the community.
Amid the pandemic, restaurants increasingly rolled out QR code menus to decrease the risk of spreading of germs by eliminating touching physical menus. Houstonians Zachary Dowthitt and Eric Hairston launched Gradi App in February 2021 to help both restaurants and guests access QR Code menus with more ease.
Now, the duo has launched a new approach for its app. The Gradi App, which can be found on the Apple App Store, has branched out to deliver an updated consumer-based model to help Houstonians discover food and drink options from the city's diverse palate of dining.
Users of the consumer Gradi App can search through photos of menu items to find the best local spots for drinks and food due to proximity and preference. Think Yelp meets Instagram. The app even has an option to book a ride share from Lyft or Uber to the destinations.
"We noticed from menus at restaurants, people are posting their food photos all the time, but menus still don't have photos" Dowthitt tells InnovationMap. "So, we asked ourselves 'when was the last time you bought something without seeing it?' Most people do it at restaurants every day."
Some of Houston's most popular spots — Frank's Pizza, Henke & Pilot, Bovine & Barley, and others — have already been spotlighted on Gradi. Currently, the app has 32 restaurant partners and over 350,000 users.
Dowthitt says he is already thinking of future versions of the app. Users will be able to locate favorite spots, share menus with your friends, search food by items, and post their own photos from each restaurant on the app. Photos will be graded on the app by users, and users can even be compensated for their posts. The most liked photo for each item will be chosen as the featured photo for each restaurant on the app, and users that take these photos will get compensated for their unique content.
Gradi App hopes to have its updated consumer version of the app with search and linked menu options out by December 7. Dowthitt says hee has plans to deliver an upgraded nightlife and happy hour version in the future.
"We've eaten with our eyes from the beginning of time," Dowthitt said. "And we believe in the future, you will see what you order (food or drinks) before you order it…and that is where we come into play."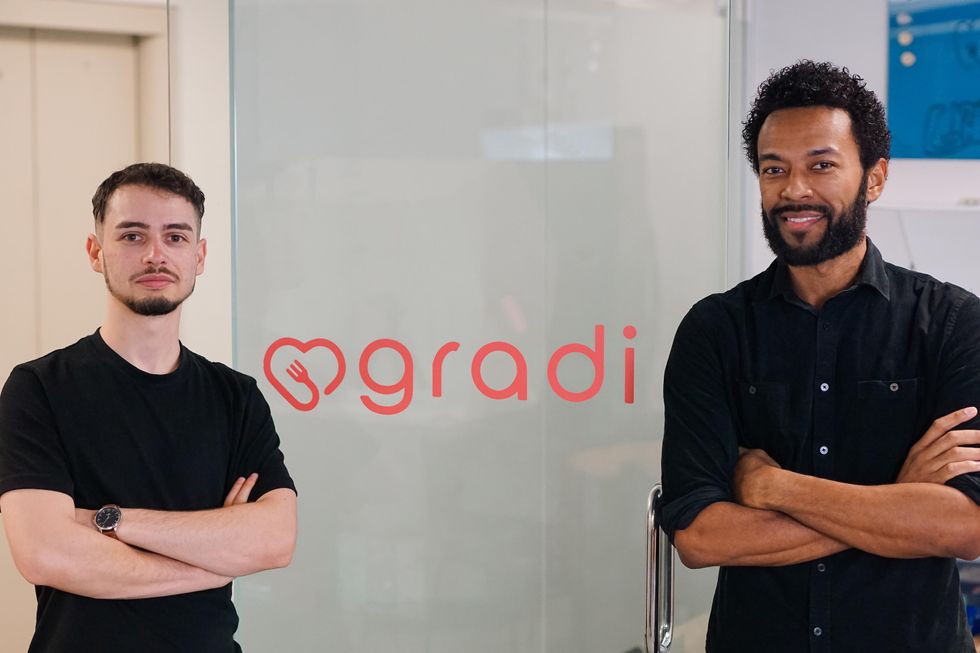 . Houstonians Zachary Dowthitt (left) and Eric Hairston launched Gradi App in February 2021Photo courtesy of Avery Padilla