International robotics competition brings STEM students to Houston
Apr 28, 2022, 10:53 am
Over 450 student teams competed in an annual international robotics competition in Houston last weekend. Photo by Argenis Apolinario/FIRST
Adolescents from 40-plus countries convened in Houston to put their robotic skills to test at the annual FIRST Championship last week.
The massive robotics championship returned this year to the George R. Brown to conclude the 2021-22 season of the international program, which is aimed at preparing youth ages 12 to 18 for the future through various robotics challenges and competitions.
The theme of this year's season was FIRST FORWARD, in which students were challenged to think of new ways to overcome transportation challenges, "from the shipment of packages in rural and urban areas, to disaster relief delivery and high-tech space transit," according to a release from the STEM organization.
The season was sponsored by California-based semiconductor company Qualcomm and was inspired in part by the UN Sustainable Development Goal of building resilient infrastructure, promoting inclusive and sustainable industrialization, and fostering innovation, according to the statement.
"I have met so many great students, volunteers, mentors, alumni, and sponsors who truly embody the FIRST mission and core Values," FIRST CEO Chris Moore says in a statement after the event. "People who strive to be gracious professionals who innovate, compete, and collaborate with equal energy. People who share our common passion for science and technology as a force for good with the world. The rewards of your efforts don't stop at this event."
Teams competed in final matches for FIRST's two major competitions.
In the FIRST Robotics Competition, which featured the RAPID REACT Game presented by Boeing, students were required to reimagine the future of his-speed transport with strict rules, limited resources, and time limits and using autonomous and driver-operated skills.
More than 3,200 teams competed during this game throughout the 2002 FIRST season and 454 teams advanced to the championship at the GRB. Team 1629 from Accident, Maryland, took home the top prize in this competition. Other teams from Austin, New York, Hawaii, Mexico, and Turkey were finalists.
In the FIRST Tech Challenge, teams were asked to think like engineers, building robots from reusables kits in the game FREIGHT FRENZY presented by Raytheon Technologies. Thousands of teams competed in this event throughout the season with 160 teams advancing to Houston. Team 8565 (the TechnicBots) from Plano won the top award.
A FIRST LEGO League challenge was also open to younger students, ages 4 to 16, and the championship. Also during the event, actress and director Gillian Jacobs accepted an award for the film "More Than Robots," which follows four teams as they prepare for the 2020 FIRST competition. The film premiered at SXSW last month and is featured on Disney+.
"I named this documentary 'More Than Robots' because as you all well know better than anyone, FIRST is about so much more than robots. I learned that it's about teamwork, compassion, friendship, learning new skills, and challenging yourself to do things you never dreamed you were capable of," Jacobs said at the event.
FIRST's 2022-23 season, dubbed FIRST ENERGIZE, will focus on innovative energy solutions. The season opens in May. Learn more here.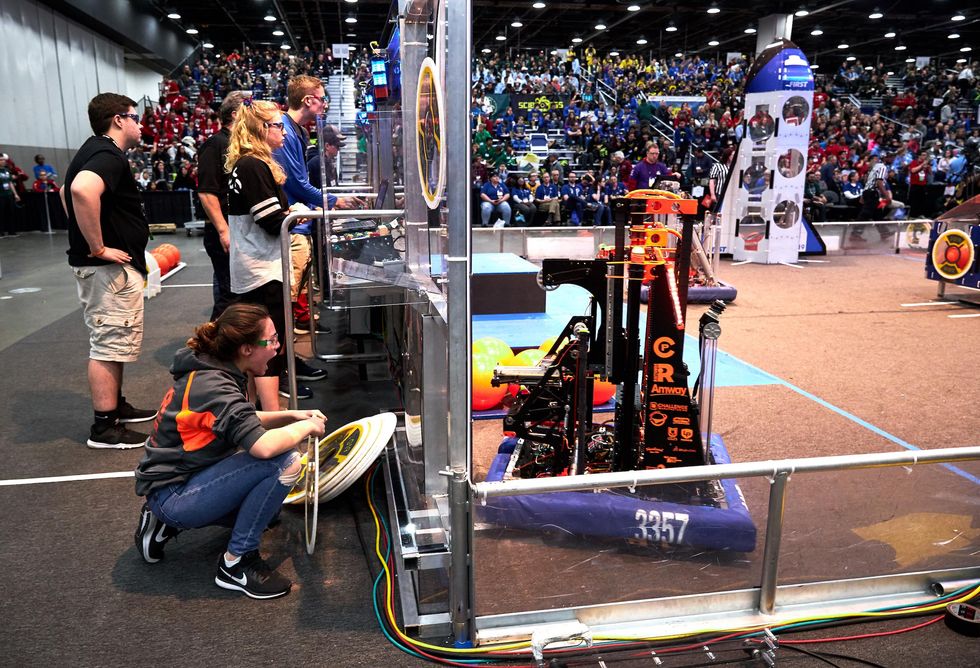 The theme of this year's season was FIRST FORWARD, in which students were challenged to think of new ways to overcome transportation challenges. Photo by Argenis Apolinario/FIRST