Innovation space in downtown Houston celebrates its grand opening
Oct 2, 2020, 1:17 pm
The Downtown Launchpad is officially open for business. Photo courtesy of the Downtown Launchpad
Almost exactly a year ago, Central Houston Inc. and the Downtown Redevelopment Authority announced the Downtown Launchpad to emerge as a "vertical village" of innovation space. Now, as of this week, the new space has been revealed at its official grand opening.
The 17,000-square-foot innovation hub, which is located on the 10th floor of Amegy on Main (1801 Main Street), is home to Houston's MassChallenge Texas and gener8tor accelerators and global nonprofit incubator Impact Hub Houston. The Cannon Houston is the operation partner for the space.
"Downtown Launchpad innovation hub starts at the edges of technology and entrepreneurship where cutting-edge ideas can quickly be cultivated and explored," says Bob Eury, president of Central Houston and Downtown Redevelopment Authority, in a news release. "We set out to recruit and develop partnerships with some of the nation's premier accelerators and incubators in order to build an inclusive vertical village with all the critical support functions just steps away. We are excited and look forward to the impact created by the hundreds of startups that will walk through our doors."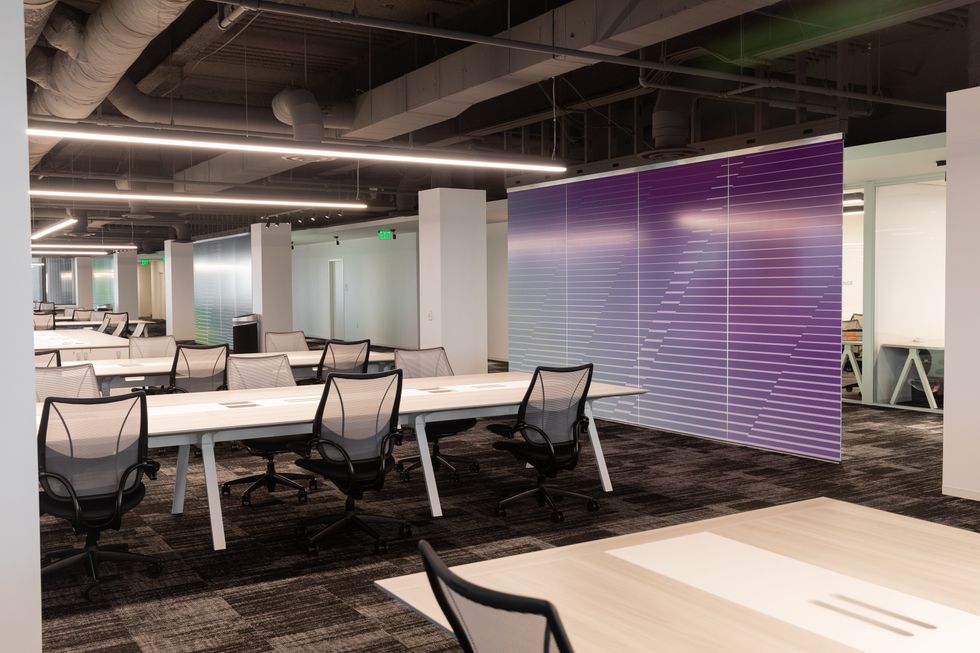 The "vertical village" features coworking and accelerator space. Photo courtesy of the Downtown Launchpad
The new space, which has been partially open since last December, celebrated the opening with a virtual event and panel on September 30. Mayor Sylvester Turner joined the programming to recognize the Launchpad.

"To meet the challenges of today, we must empower a can-do spirit by offering a framework of resources that includes supporting startups and entrepreneurs as they seamlessly navigate through the stages of startup production — from idea generation and incorporation to talent development, investment, and scaling, as well as ensuring upskilling and reskilling to provide economic vitality for all Houstonians," Mayor Turner says at the event. "Downtown Launchpad enables this to happen. Hundreds of new businesses will be built here in the coming years."
The space, which will be used for programming and events, features a communal ground-floor lobby area with meeting rooms, a game room, workstations, and a coffee bar and deli, according to the release. There's also a dedicated event space on the building's 11th floor.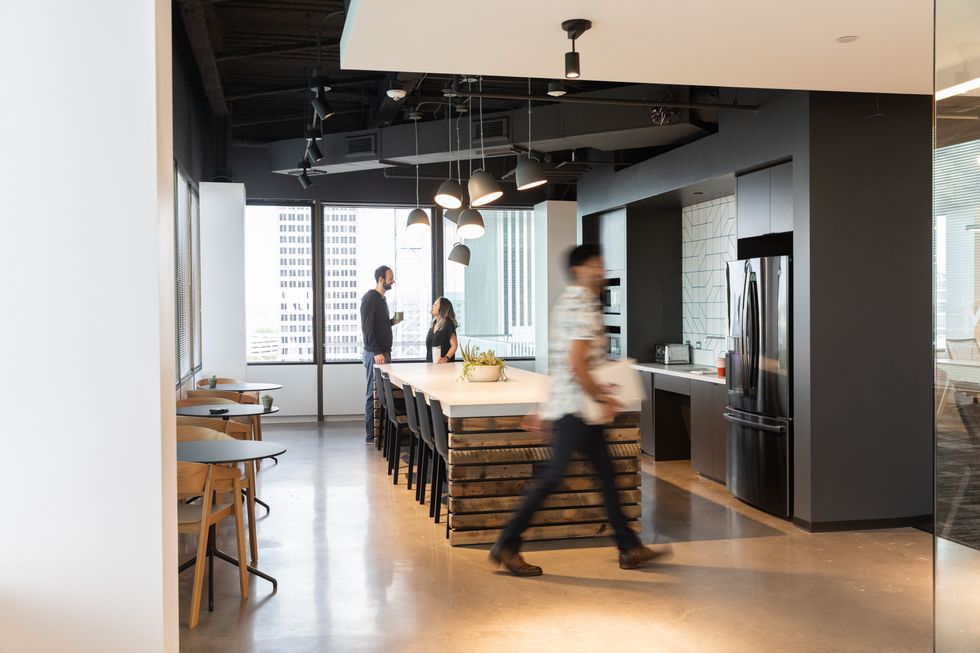 Common space are designed to enhance collisions between entrepreneurs. Photo courtesy of the Downtown Launchpad
"In the 2017 Plan Downtown, a key business strategy focuses on facilitating the creation of a collaborative Innovation District within Downtown," says Curtis Flowers, Downtown Redevelopment Authority board chair, in the release. "The purpose is to incubate a vibrant, innovative economy where startups thrive, create jobs, and attract venture capital investments to Houston which will benefit the City's long-term economic vitality. We believe the investment in establishing Downtown Launchpad will garner long-term results for Downtown and the Houston region."