Technology should enhance your quality of life. Art Wager/Getty Images
Cities across the country are in a race to get smart. Imagine a city where infrastructure and citizens are all interconnected by new technologies. Information about traffic, parking, energy use, city services, flooding, and much more is shared widely in open technology platforms. The possibilities are exciting: Smart Cities will collect and disseminate data in ways that should enhance quality of life, sustainability, and economic growth.
Indeed, a sea change is underway. In the past, the workings of a city were managed by the few — i.e., city planners and government officials. Looking ahead, new technology platforms are now enabling the many — i.e., corporations, nonprofits, and individuals — to share data in real time and significantly influence the workings of the city. It is a new era: the crowdsourcing of data coupled with ubiquitous access to useful information. Very smart.
What is a Smart City?
Deloitte, a leading voice in the development of Smart Cities, notes an evolution is underway. In a recent article, "Forces of Change: Smart Cities," Deloitte defines a Smart City 1.0 as "physical assets networked via sensor technology that generate streams of valuable data from 'smart' parking meters, streetlights, and even trash receptacles." But that's just the start. A Smart City 2.0 builds on the interconnection of the city's physical infrastructure, and adds people into the equation: residents, government and business employees, and visitors (see Deloitte's framework for Smart Cities below). Per Deloitte's article, "Smart City 2.0 focuses on enhancing the citizen experience by operating at the intersection of the 3Ds: data, digital, and human-centered design." The opportunity: leverage the collective knowledge of entire communities.
Houston getting smart
Houston is laser-focused on capturing this opportunity. Last March, Mayor Sylvester Turner announced the launch of the Smart City Advisory Council. Amy Chronis, managing partner of Deloitte's Houston office and the chair of the Greater Houston Partnership's (GHP's) Sustainability Advisory Committee, facilitated a workshop with city leaders. Per a GHP article, "the advisory council is charged with engaging community stakeholders, governments, academia and industry to develop a roadmap that will speed the adoption of technology and data-driven practices in the public realm."
Houston's Smart City initiative divides projects into a portfolio of opportunities: transportation, public safety, resiliency and sustainability, and engagement. The scope spans areas such as traffic, security, community life, and flooding. For example, the expanded Houston Intelligent Transportation System (HITS), a network of digital traffic signs, cameras, and more, will "monitor and manage traffic in real-time, improving public transit speed, information sharing and overall reliability." Flood detection sensors and roadway flood warning systems will gather and transmit flood-related data. With increased information, we should experience far fewer surprises on the road.
To move from a Smart City 1.0 to a Smart City 2.0, Houston is tapping into input from a wide swath of the population. In partnership with Microsoft, Houston is using a program "which scrapes data from the internet and social media to recognize trending topics and how they impact citizens' views toward the city" — just one example of giving a new voice to citizens. Also, a 311 chatbot allows citizens to seek city information or request services, while 311 prediction enables the city to better forecast needs and allocate resources smartly. We are headed toward more empowered citizens and a far more responsive city government.
For Houston, the opportunity is particularly large. With a diverse population and large geographic sprawl, Houston is poised to benefit greatly from increased interconnectedness. The city can get more ideas from diverse sources to solve issues, businesses can make smarter investments, residents will secure more ownership of their communities, and visitors will be more well-equipped to enjoy their experiences here. City leadership has grasped the vision. As Mayor Turner stated in a May 2018 address: "We must leap, not stroll into the future. We must sprint, not jog. It will be this city that will be the Smart City of the world."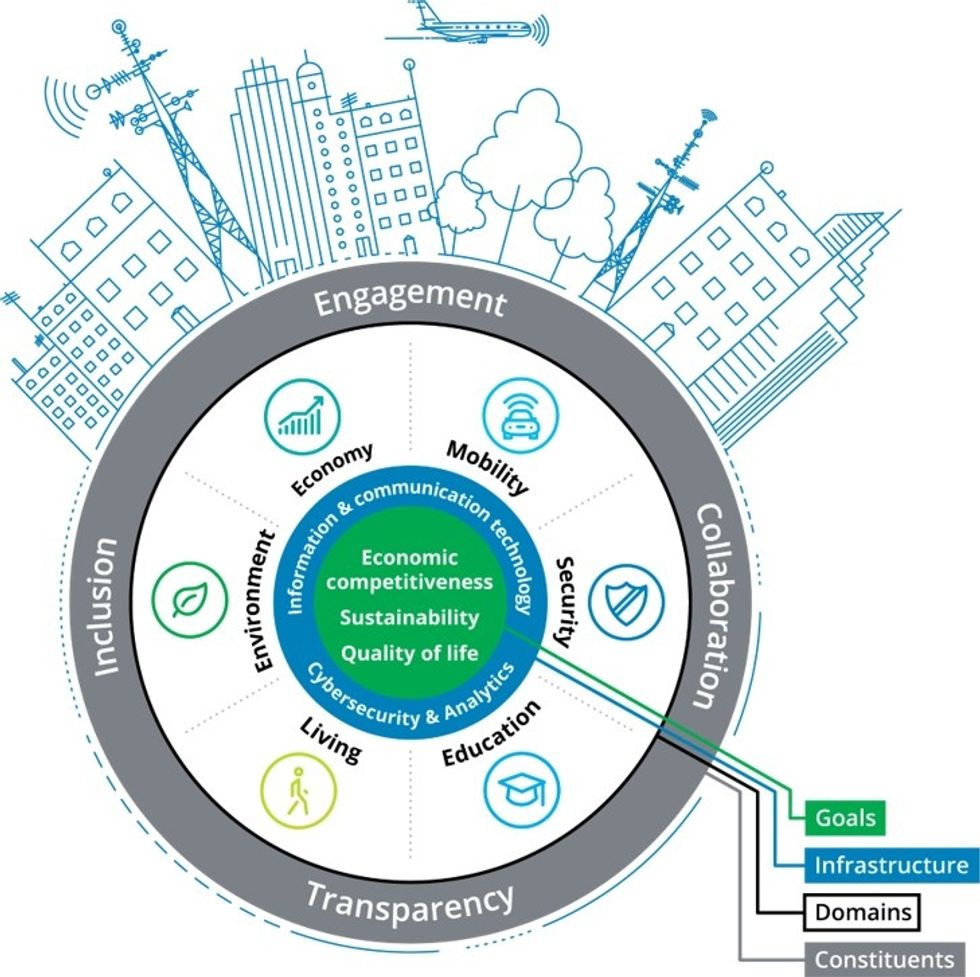 Graphic courtesy of Deloitte
---
This publication contains general information only and Deloitte is not, by means of this publication, rendering accounting, business, financial, investment, legal, tax, or other professional advice or services. This publication is not a substitute for such professional advice or services, nor should it be used as a basis for any decision or action that may affect your business. Before making any decision or taking any action that may affect your business, you should consult a qualified professional advisor. Deloitte shall not be responsible for any loss sustained by any person who relies on this publication.
About Deloitte
Deloitte refers to one or more of Deloitte Touche Tohmatsu Limited, a UK private company limited by guarantee ("DTTL"), its network of member firms, and their related entities. DTTL and each of its member firms are legally separate and independent entities. DTTL (also referred to as "Deloitte Global") does not provide services to clients. In the United States, Deloitte refers to one or more of the US member firms of DTTL, their related entities that operate using the "Deloitte" name in the United States and their respective affiliates. Certain services may not be available to attest clients under the rules and regulations of public accounting. Please see www.deloitte.com/about to learn more about our global network of member firms.
Copyright © 2019 Deloitte Development LLC. All rights reserved.