Cross-functional teams help aid innovation. Photo by Hinterhaus Productions/Getty
Some workers fear technology, wondering "will a robot eventually replace my job?" Yet, Deloitte Insights and MIT Sloan Management Review found in a recent study that the more a company uses digital technology, the more likely it is to be innovative, which can benefit individuals, teams, organizations, and groups of organizations.
Deloitte and MIT collaborated for the fifth time to conduct a global study about digital innovation. They surveyed more than 4,800 businesspeople and interviewed 14 subject matter experts. The results were published in a June 2019 report titled "Accelerating Digital Innovation Inside and Out."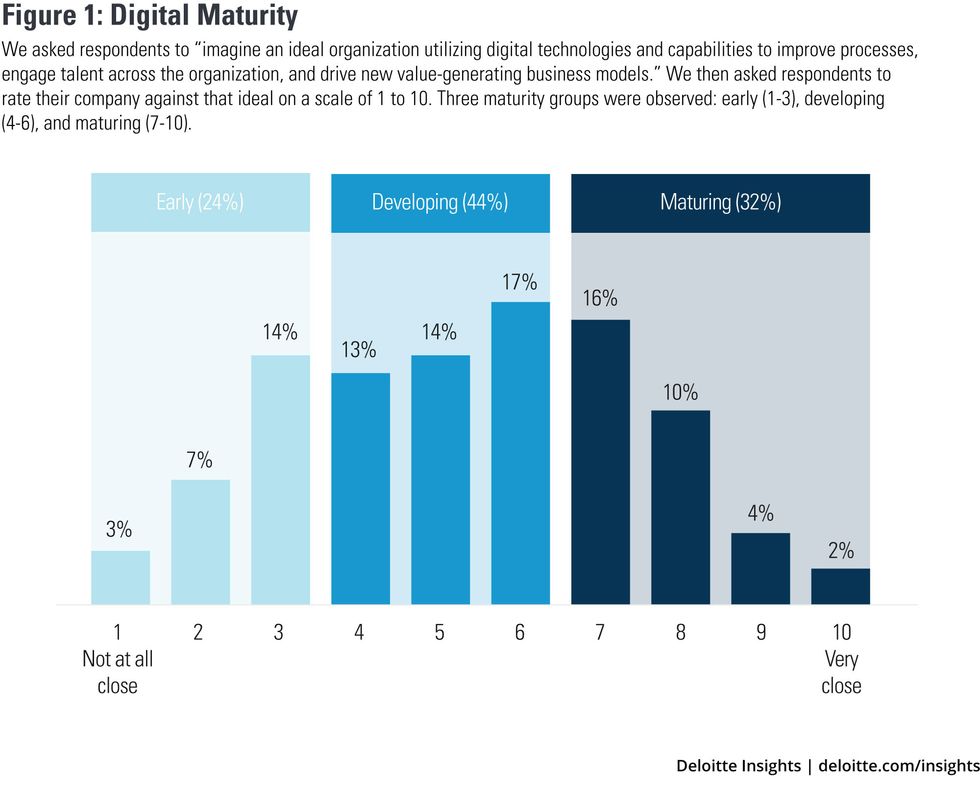 Deloitte and MIT shared two main findings from the survey:

Digitally maturing companies innovate at higher rates — both internally and externally — than companies with early or developing digital maturity.
Companies should know their ethics so that they can innovate wisely.
Internal innovation
Most digitally maturing companies innovate internally in two ways. First, they typically allow individuals to innovate within their jobs. The more digitally mature a company is, the more likely an employee was to say that more than 10 percent of their work involves the opportunity to experiment and innovate. The opposite was also true. Employees of less digitally mature companies were more likely to say that less than 10 percent of their work involves the opportunity to experiment and innovate.
In addition to encouraging individuals to innovate, most digitally maturing companies urge groups to innovate by establishing cross-functional teams. These teams are generally comprised of individuals from across multiple departments and roles and often exist to accomplish a specific task. Deloitte and MIT found that 83 percent of digitally maturing companies surveyed use cross-functional teams. This is far higher than respondents of either developing or early-stage companies' cross-functional team use — 71 percent and 55 percent, respectively.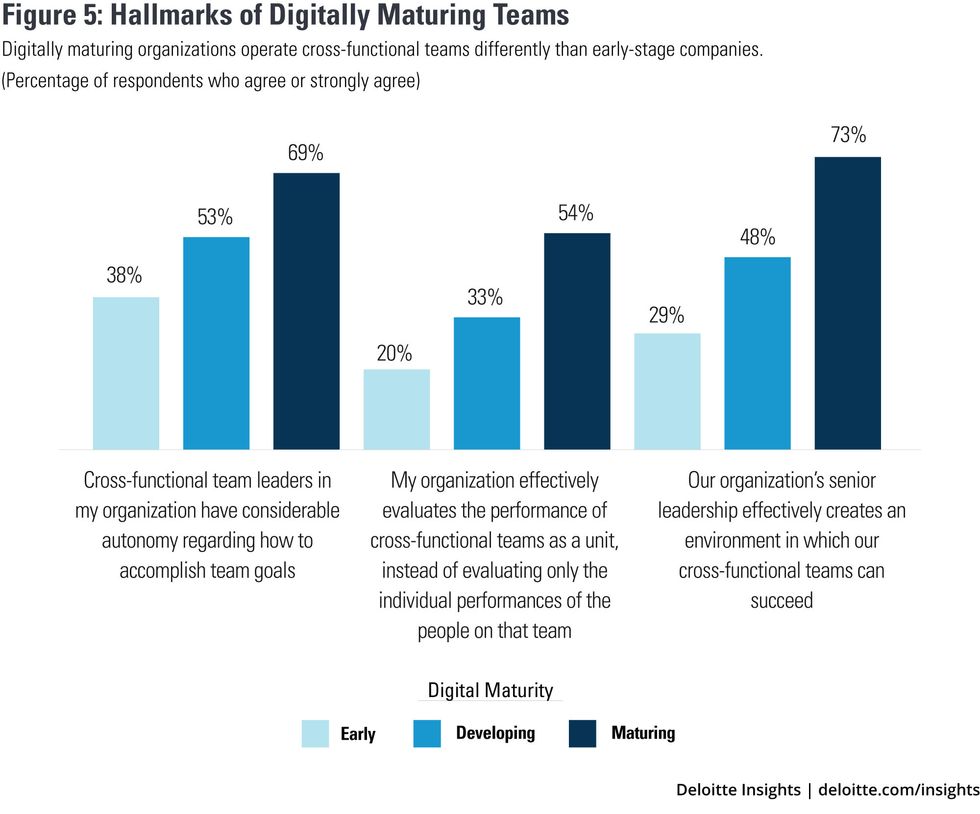 External innovation
In addition to having employees innovate internally (both individually and in groups), digitally maturing companies often innovate externally by collaborating with others (e.g., their customers, their competitors, government institutions, and more) in their ecosystem. Ecosystems, which are formal or informal networks of organizations working toward a common goal, typically feed innovation in two ways. First, they integrate platform companies, meaning that companies that provide services to other companies — such as Amazon and PayPal — are both a part of the ecosystem and also strengthen it by being part of it.
Second, digitally maturing companies allow all organizations within the network to get better feedback. A company is not just getting feedback from their own customers, but from all customers within the ecosystem.
Ethics and innovation
In order to get the most benefit from their internal and external collaborations, companies should use "loose coupling," a term first coined by organizational theorist Karl Wieck. This means that individuals are linked to teams, teams to the organization, and the organization to fellow members of its ecosystem — but not too tightly. This model allows people the freedom to have both some autonomy and also some oversight as they innovate. If people are micromanaged, they are not able to innovate as well.
Because innovation requires loosening the reins somewhat, companies should have strong ethics systems in place. Otherwise, innovation can get out of hand, and a company risks having employees develop goods or services which aren't in line with organizational values.
Survey conclusion
Over half (56 percent) of survey respondents said they think their organization will exist and be in a much stronger position in 10-20 years due to the organization's use of digital capabilities. A similar percentage (44 percent) of survey respondents said that in 10-20 years, they think that their organization will have been bought out or gone out of business. Companies can act based on market and competitive forces but cannot control them. Companies can, however, decide how much of a priority digital innovation will be.
If they decide it is a priority, how can companies become more innovative? Companies should consider several tips:
Work with other organizations within your ecosystem.
Prioritize cross-functional teams.
Use loose coupling which allows room for trial and error.
Establish and continually update your ethics guidelines.
Innovation in Houston
The Houston innovation scene is thriving, and local organizations know that they are stronger together than apart. Houston Exponential is a "nonprofit organization created to accelerate the growth of Houston's innovation ecosystem" which hopes to "turn Houston into a hub for high-growth high-potential companies by creating pathways for innovation to flow at scale." Houston Exponential has stakeholders from companies, non-profits, government entities, and academic institutions.
---
This publication contains general information only and Deloitte is not, by means of this publication, rendering accounting, business, financial, investment, legal, tax, or other professional advice or services. This publication is not a substitute for such professional advice or services, nor should it be used as a basis for any decision or action that may affect your business. Before making any decision or taking any action that may affect your business, you should consult a qualified professional advisor. Deloitte shall not be responsible for any loss sustained by any person who relies on this publication.
About Deloitte
Deloitte refers to one or more of Deloitte Touche Tohmatsu Limited, a UK private company limited by guarantee ("DTTL"), its network of member firms, and their related entities. DTTL and each of its member firms are legally separate and independent entities. DTTL (also referred to as "Deloitte Global") does not provide services to clients. In the United States, Deloitte refers to one or more of the US member firms of DTTL, their related entities that operate using the "Deloitte" name in the United States and their respective affiliates. Certain services may not be available to attest clients under the rules and regulations of public accounting. Please see www.deloitte.com/about to learn more about our global network of member firms.
Copyright © 2020 Deloitte Development LLC. All rights reserved.