Deloitte launches first-of-its-kind clean energy lab in Houston
Sep 29, 2021, 1:02 pm
The Houston location is one of six Greenhouses in the U.S. and one of 40 around the world. Photo courtesy of Deloitte
Houston will become home to professional services giant Deloitte's largest and most technologically advanced immersive, interactive innovation hub dubbed the Deloitte Greenhouse, Powered by Energy & Industrials.
Co-located with the company's downtown Houston headquarters, the 14,000-square-foot space is intended to help executives plant and foster new ways of thinking, working, and experimenting in the energy industry.
The Houston location is one of six Greenhouses in the U.S. and one of 40 around the world — take a virtual tour of a few of them here. This is the first Greenhouse in Texas (other U.S. locations include Chicago, New York, San Jose, and Washington D.C.) and the first to focus on the energy transition.
"Houston, the world's energy capital, is the ideal location for this type of innovative approach to accelerate problem-solving," says Amy Chronis, Houston managing partner, Deloitte LLP. "The oil and gas industry is at a crossroads where business transformation is no longer an option. We are providing a controlled, safe environment for companies to experiment and test various workforce, technology and market scenarios to help them right-size and future-proof their businesses in this rapidly changing landscape."
The space is designed with touchscreen-enabled and collaborative technology tools to "help ideate, co-create and prototype solutions to the toughest challenges facing the industry," including a 360-degree immersion dome.
It's also slated to include AR technology and computer vision algorithmic solutions that have become a focus for crews working in remote, high-risk environments, especially during the pandemic.
"New realities and expectations are driving the demand for new thinking," says Stanley Porter, vice chair and U.S. energy, resources and industrials leader at Deloitte. "At Deloitte, we are committed to and we are investing in the Deloitte Greenhouse, Powered by Energy & Industrials to accelerate learning and enable rapid solutions to help our clients solve their most complex problems and co-create their future."
Other global leaders have launched incubators in Houston that focus on the shift to lower carbon energy in recent months. Halliburton's in-house incubator launched last year and recently announced new startups that are teaming up with the lab. Meanwhile, Greentown Labs, opened earlier this year.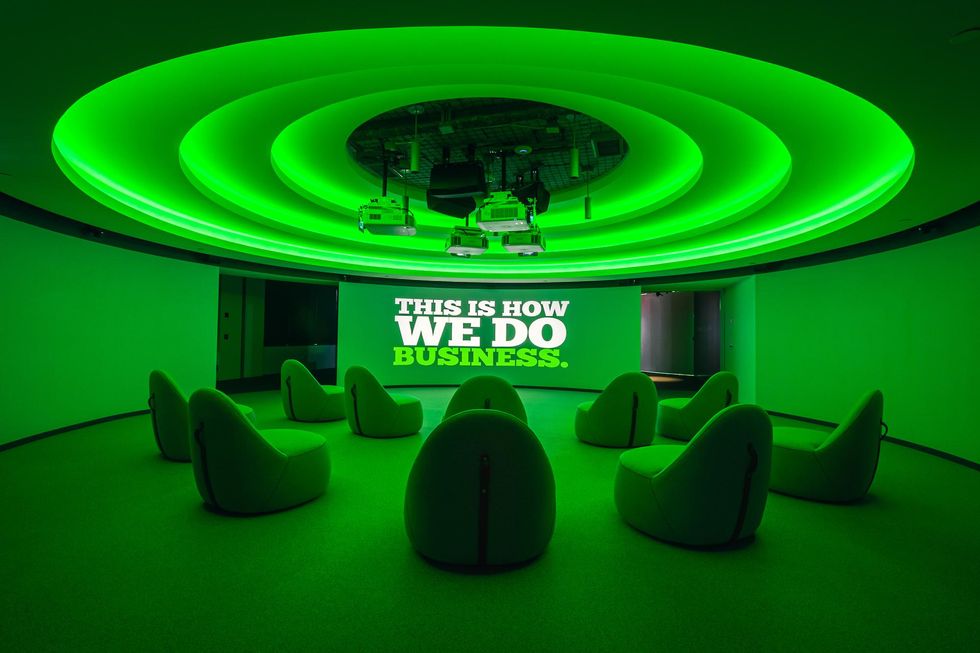 The space is designed with touchscreen-enabled and collaborative technology tools. Photo courtesy of Deloitte