Report: Houston, Texas rank as top locations for coworking space
Oct 17, 2022, 1:22 pm
Both the city and state appear on a new report on best places for coworking. Photo via Getty Images
Attention all Houston-based remote workers, small business owners, and startups — if you're looking for flexible office space, you're in the right place.
Both the city and state have landed on CoworkingCafe's list of the best places for coworking in the country. With 652 reported coworking spots, Texas ranks as the No. 2 state — behind California 1,188 coworking spots and ahead of Florida's 629 and New York's 589 offices.
Houston ranks as eighth best metro for coworking with 208 coworking facilities. The Dallas-Fort Worth area ranked a few spots ahead of the Bayou City, coming in at No. 5 with 261 coworking spots. Austin also makes the top 2 with a reported 97 coworking spots, earning the No. 19 spot.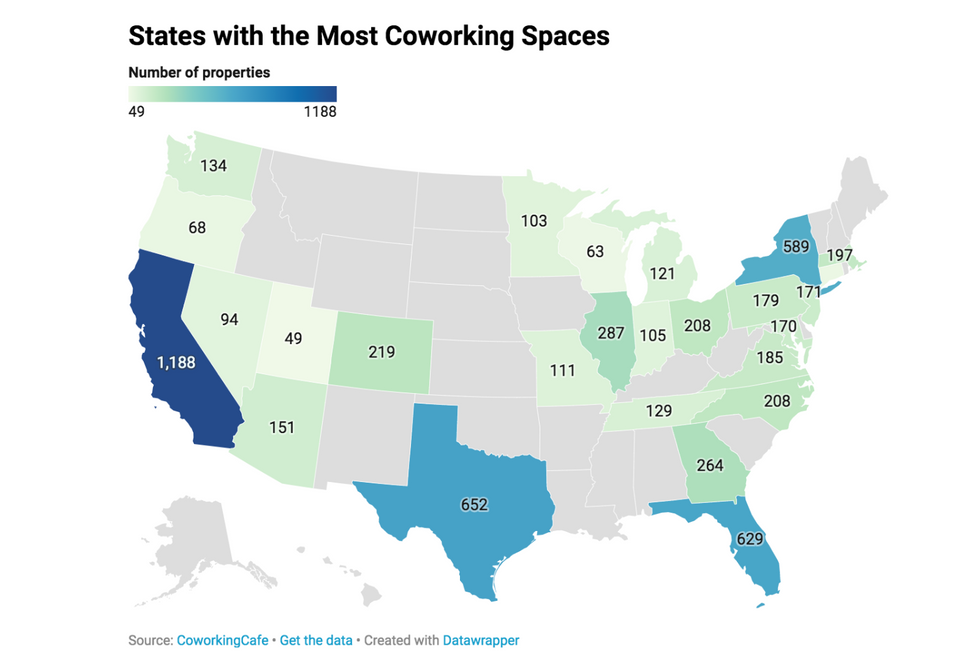 Data via coworkingcafe.com
According to the report, the area looked into included 15 cities within the Houston metro. The majority of the coworking properties —154 of the 208 identified — are located in Houston proper. Sugar Land has over 10 coworking spots, with the rest of the properties scattered across the greater Houston area in Katy, Spring, The Woodlands, etc.
Houston has followed the overall trend of increased remote workers, though not to the extreme other cities and states are seeing, according to the study. Per a Statista report, the number of people working in coworking spaces today has more than tripled since 2015. Houston's remote workers increased to 16 percent in 2021 from 4 percent in 2019.
"Even though Houston is already an established working hub with great job opportunities, it is also one of the cities with the lowest change in the share of remote workers," the report reads. "The change, however, still accounts for a notable outcome."

Earlier this year, a Seattle-based human resources company named Karat conducted their own report on the most attractive metros for remote workers within tech. In that 2022 study, Houston ranked No. 6 just ahead of No. 7 Austin. Last year, Houston ranked as No. 2 and Dallas at No. 9, but that North Texas metro fell off the top 10 for 2021. Pittsburgh maintained its top spot on this list year over year.
"Last year we took our first look at the rapidly expanding remote software engineer hiring landscape. As more organizations shifted to remote or hybrid working models we had started to see significantly improving candidate performance outside of the more-established tech hubs," writes Patrick Wu, data analyst at Karat, in a blog post. "Today, as even more top tech companies commit to hiring remote software engineers, we're taking a look at how this landscape has continued to evolve."
The full ranking of CoworkingCafe's report is below.