Houston-grown partnership completes innovative pilot program promoting affordable housing
Feb 3, 2020, 10:28 am
A Houston pilot program created a way to design stylish homes at a fraction of the cost — and in less than half the time. Photo courtesy of BoxPrefab
For families who want to live near downtown, Houston's affordable housing deficit in and around the Inner Loop is no secret.
For thirty years and counting, Houston-based nonprofit Avenue has confronted this reality by creating affordable housing opportunities and comprehensive community development programs for families in Houston neighborhoods.
"One of our chief objectives is to help stabilize neighborhoods and give opportunities for people to stay in the neighborhoods by providing moderately-priced homes," says Robert Fiederlein, Avenue's senior director of real estate development.
After an audit of Houston's Northline neighborhood revealed the community's affordable housing shortage, the Avenue team began to explore various methods to deliver new construction to the community, through sustainable housing at affordable prices. Research of diverse construction methods led Avenue to the innovative solution of prefabricated family dwellings.
In their effort to find a smart, sustainable alternative to traditional construction, Avenue came across BoxPrefab, an innovative off-site construction company that produces precision-built prefabricated homes from design to completion.
BoxPrefab's sustainable-oriented attributes and efficient processes checked all of Avenue's 'must-have' boxes and the two entities kicked off their partnership with their premier pilot program for modular home development.
"We care a lot about bringing affordability to housing and bringing good designs to affordable housing. We were really excited to work with Avenue because we are really in tune with their mission," says Rame Hruska, BoxPrefab's co-founder. "This is a great solution for homeowners."
This housing solution is not your run-of-the-mill "affordable housing." Besides its sleek finishes and modern look, BoxPrefab's modular home design and construction process is practical and ultra-simplified. Using prefabricated components, the company specializes in building homes in a factory, a controlled environment, instead of building on-site, where the construction process is subject to external variables, like rain, inclement weather, or any labor diversions.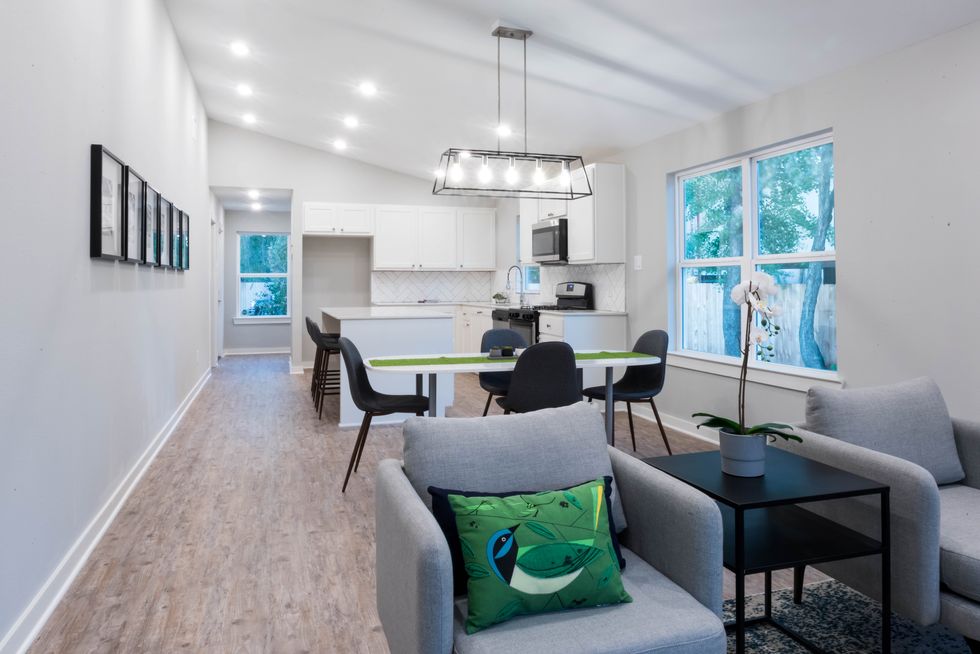 The BoxPrefab houses are created offsite and then set up on the property. Photo courtesy of BoxPrefab
"Reliability is a big factor for our clients. There's so many unknowns and variables, from weather to other various delays, so we can really give people a much more definitive price, time and set quality," says Hruska.

After producing the factory-built components, BoxPrefab then assembles the prefabricated modules on the home's lot. With this streamlined process, BoxPrefab is able to build homes faster and in a more systematic manner, all while reducing waste output and overall cost.
"We have confidence that if we placed higher orders, costs would go down," Fiederlein says. "This could be a way to build less costly affordable housing. Construction costs came out $130 per square foot, which is comparable to the other site-built homes that we're working on right now.
"Another thing we've learned was that we can do it in half the time as a site build," Fiederlein continues. "It takes six to seven months to build a site-built home and we completed this home in just over three months. Russell, with tighter scheduling, said he could've built quicker. We can half the time it would normally take. As you know, time is money."
BoxPrefab's construction process, fiscal efficiency and waste output reduction is exactly what Avenue was looking for in a partner. Together, the two entities successfully completed their pilot program by placing a three-bedroom-two-bathroom prefabricated home on the market in Houston's Northline neighborhood.
"We're really excited about this potential and see it as becoming a much more standard way to build," Hruska says.
Prefabricated building options are considered the future of construction, due to its increased reliability and quality in the construction process, Hruska says. Based on the success of their pilot program, Avenue anticipates investing in more modular housing in the future. BoxPrefab, while Houston-based and focused, has their sights set on expanding regionally, to service more clients with prefabricated solutions, says Russell Hruska, BoxPrefab co-founder.
"Modular is a viable path going forward," Fiederlein says. "It's going to take additional work to get there, but the pilot shows that it's certainly a method that helps to reduce costs…We're confident that it can be the way of delivering affordable housing at lower prices."