Houston workforce training startup acquired by California company
Jul 27, 2023, 12:28 pm
Ampersand has been acquired by a college loan and student services provider based in San Diego. Photo ampersandpro.com
A Houston startup, founded to streamline and optimize the intern-company relationship, has been acquired by a student loan and services provider.
San Diego, California-based Ascent, a collegiate student loan company that also provides student support services, announced it has acquired Ampersand, a software platform that provides skills training to young professionals. The news was announced today, July 27, coinciding with National Intern Day.
With the acquisition, Allie Danziger, co-founder and CEO of Ampersand, joins Ascent as senior vice president and general manager of student success. She will lead the company's educational program that focuses on equipping students with skills from education to employment.
"Since launching Ampersand in 2020, we've received constant praise from employers, students, and universities on the real education-to-employment skills gap we are filling," says Danziger in a news release. "I take immense pride in the fact that we've helped thousands of students enter the workforce with confidence, earn higher salaries, and get set on the right career path. I know joining the Ascent team will unlock even more opportunities for our combined companies, expanding our collective impact to millions of students and job seekers."
The demand for skilled young professionals continues to rise, explains the release, as internship participation declines over time — from 29.2 percent in 2018 to 17.6 percent in 2022, according to a report. Ascent recently announced it plans to roll out initiatives to increase students' wages by $10 billion in five years. Acquiring Ampersand is one step toward this goal, says Ascent CEO and Co-Founder Ken Ruggiero.
"This move strengthens our ability to maximize outcomes by eliminating the education to employment skills gap, and further positions Ascent as a leader in student success focused on driving positive outcomes," says Ruggiero in the release. "Ampersand's custom tools and learning modules will continue to optimize the journey for our customers from classroom to career as they build confidence, secure jobs with livable salaries, and become successful members of the workforce."
Ampersand's platform, which includes a wide collection of asynchronous professional development training, will be added to Ascent's existing resources platform, the Student Success Program.
Danziger, who is an expert contributor to InnovationMap on the topics of interns, Gen-Z, and more, has grown her company to facilitate training and internship opportunities to over 7,000 young professionals. Ampersand was also a partner with the City of Houston's Hire Houston Youth program in 2022.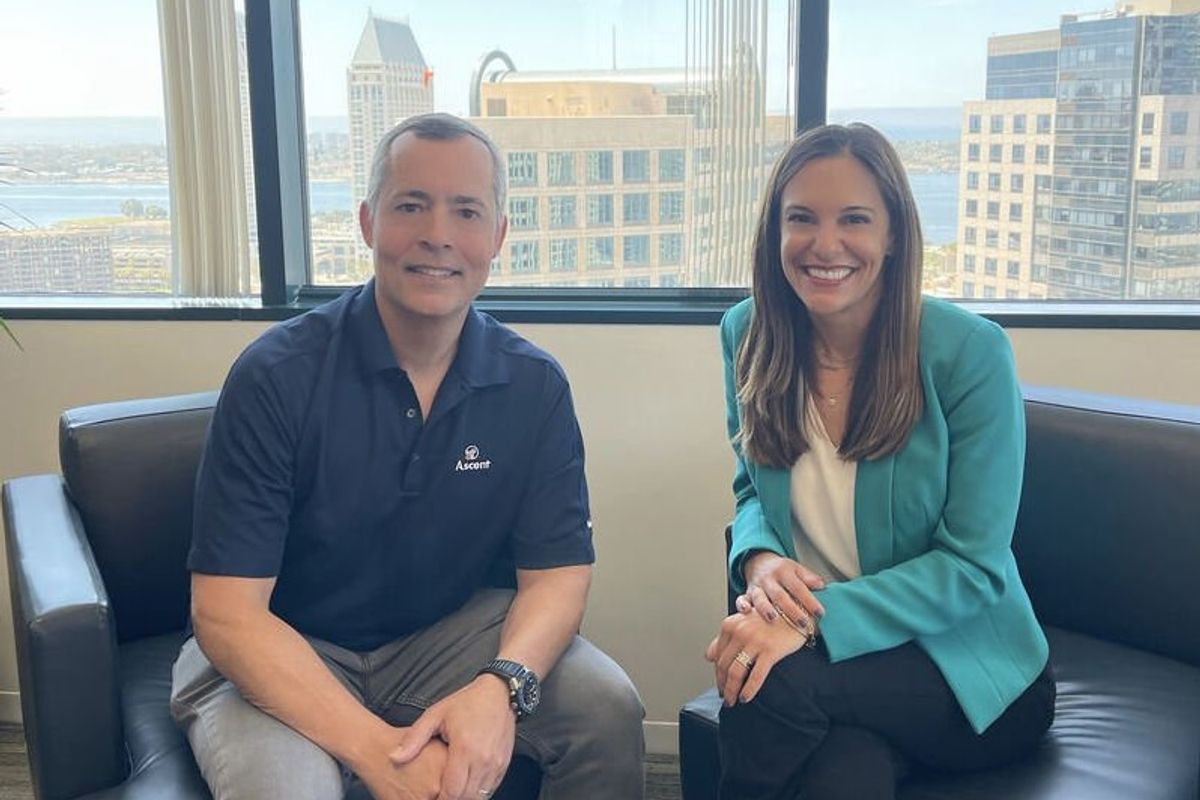 Ascent CEO and Co-Founder Ken Ruggiero will work with Allie Danziger, co-founder of Ampersand, in her new role as senior vice president and general manager of student success at Ascent. Photo via LinkedIn