Two female founders create a PR solution for startups and small businesses in Houston and beyond
Feb 22, 2021, 11:05 am
Two seasoned public relations experts are providing resources for startups and small businesses. Photo courtesy of All You Need Method
Public relations can feel elusive and overwhelming to small business owners. Carla Nikitaidis and Kathryn Worsham Humphries, two seasoned communications consultants, are used to hearing clients ask if they need PR — and more often than not, "what does PR even mean?"
The two women are lifting integrated marketing's curtain to help early-stage businesses and entrepreneurs understand and implement their own communication plans. Houston-based Humphries and California-based Nikitaidis launched All You Need Method, an online course and consulting business designed for small business owners, to help provide agency-level strategy without the expensive price tag.
All You Need Method compiles Nikitaidis and Humphries years of communications experience into an accessible course, The PR Starter Kit.
"We packaged it together in a way where if you're the founder of a small business, you can take our course and get started down the right path of telling your story, being strategic, setting goals, and growing your brand," explains Humphries.
The $249 course is a small sum compared to the often costly prices of hiring on a PR agency, which Humphries explains have monthly retainers ranging from $3,000 to $20,000. The price point is much more manageable for a small company, she explains.
The partners first crossed paths in New York City, sharing a mutual love for PR. Nikitaidis worked for a string of large agencies, representing popular brands like Target, CVS, and Shiseido. Humphries, a University of Texas graduate, landed in Manhattan to fulfill internships at Ralph Lauren, Teen Vogue, and Lonny magazine.
When Nikitaidis left her agency role to start CMN PR, a firm focused on early-stage businesses, and brought Humphries on as her first employee. "She was so smart and strategic — such a partner from day one," says Nikitaidis.
After five years of CMN PR, the two joined a client's in-house team and, eventually, departed to their own adventures. Humphries joined the global social media team for Gap Inc. and eventually returned to Houston to start her consultancy, KWH Creative. Nikitaidis became director of communications at Nextdoor, in the early days of the app, and vice president at The OutCast Agency in San Francisco before relaunching her company as CMN PR & Consulting in 2020.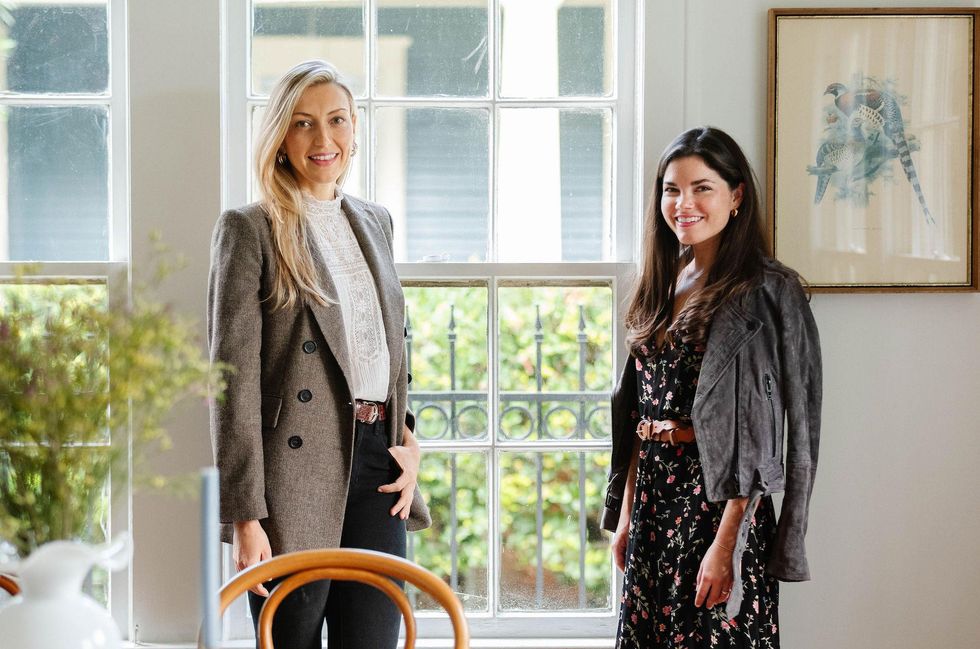 Nikitaidis and Humphries met in New York years ago and have worked together in the past. Photo courtesy of All You Need Method
When the coronavirus started, the two women realized that small businesses were struggling more than ever. They set out to create tools for the early-stage entrepreneur and even business owners reassessing their plans in the wake of 2020's hardships.

"There are so many businesses that are pre-PR agency or even pre-consulting services that just need a little bit of help. They don't need a $5,000 or $10,000 monthly retainer — what they need is some strategic guidance," says Nikitaidis.
All You Need Method seeks to democratize access to media for solopreneurs on a budget.
"We're not anti-PR agency," Nikitaidis stressed. "We just think that the system and how it's kind of set up right now is broken."
Traditionally, publicists have been the conduit between brands and the media. Through press releases and pitches, communications professionals build relationships with reporters to help the brands they represent get media coverage. The Public Relations Journal even sought to investigate the role of PR gatekeepers in a 2011 study.
"If you think about how agency life has evolved, you used to have to go through an agency to have access to media. Now that the conversation is completely broken down — you don't need a third-party to have that conversation," continues Nikitaidis.
Before reaching out to the media or unveiling a product, Humphries believes you should have "core foundational pillars in place." The PR Starter Kit course guides our seven-step formula the two founders have used with their clients to help them stand out in a crowded media landscape. The course provides customized templates, a competitive analysis, content creation tips, and clarity on how to use integrated marketing to reach your business goals.
The PR Starter Kit includes approximately one hour of video training and worksheets that could take an estimated five hours to complete. The videos are broken up into segments so "you can go at your own pace" overtime, suggests Nikitaidis.
For a personalized approach, All You Need Method also offers one-hour strategy sessions via Zoom for $250. The consultation process answers PR and marketing questions pertaining to the brand's business, addresses individual pain points, and focuses on bonus goals.
"We're always trying to map back or help small business owners approach PR and marketing as something that's going to move their business goals forward," Nikitaidis added.
Building customer relationships and servicing your clients may sound like "Business 101," but Humphries finds that 2020 has shifted the needs of brand audiences and their lifestyles.
"I feel like a lot of small business owners have a vague idea of who their target audience is, but they haven't actually sat down and drilled down on all the details," explains Humphries.
Especially in light of the coronavirus pandemic, consumer behavior has changed. She recommends understanding what they could most use from you right now based on your areas of expertise and your product or service.
The coronavirus isn't the only nationwide hardship that's forcing brands to reevaluate their content and values. Last May, the Black Lives Matter movement held protests across the country in the wake of George Floyd's murder. Conversations on racial justice and police brutality took place on the ground, in news outlets, and across social media platforms. While the movement was amplified on social platforms, some brands fumbled responses and social media statements that critics felt were inauthentic.
"There was just this total lack of awareness in terms of the different industries, specifically fashion and beauty. I hope that it was a big wake up call," says Nikitaidis, who emphasized All You Need Method's commitment to inclusivity. The company recently interviewed thought leader and marketer, Sonia Thompson, for tips on building an inclusive brand.
Inclusivity, and the messaging surrounding it, was a problem that existed long-before last summer and has continued on. From the Dallas-based mahjong brand that sparked a debate on cultural appropriation to the racial missteps of fashion brands, embracing inclusivity with half-hearted gestures has led brands to come under fire.
"I think a big part of being an inclusive brand and having it be authentic is relationship building and making sure that you're building relationships with a diverse audience and customers that don't look just like you," explains Humphries. She challenges people to make "a conscious effort to expand your circle and to make other people feel welcome."
From a global pandemic, political divisiveness, racial justice revolutions, the growing climate crisis, and an insurrection at the nation's Capitol, there's, well, a lot of events to consider when creating social media content.
To Nikitaidis, authenticity and consistency go a long way.
"Reevaluate your core values, and then make sure that you show up with intention in every single solitary thing that you post, that you put out there, and that it's consistent," she says. "If there is a cause that you really care about, and that really is a natural fit with your core values, then you become a thought leader in that space and it's not contrived."
While 2020 might have been a shock to the system for some, it also ushered in new platforms that the two believe could shape marketing's future.
Nikitaidis is excited about what Clubhouse, an audio-chat social networking app, could mean for the future of social platforms. She describes the app as a vibrant dinner party with your 10 coolest, most interesting contacts... except everyone can listen in.
The invitation-only app, which launched last April, features a variety of virtual rooms with conversations on topics like music, social media marketing, business, politics, dating, and more. The Verge likens it to "Medium for podcasts," while reporting on Elon Musk's debut on the chat platform.
"I think the podcast market is awesome but I think that's becoming a little oversaturated. I'm interested and excited to see where these other digital platforms are popping up and how people will be socializing or communicating or connecting in new ways," says Nikitaidis.
She also predicts a resurgence in the power of LinkedIn, the favored platform for business networking. After pitching an op-ed to The Cut and Huffington Post Women, her consulting client posted her piece to LinkedIn and amassed one million views in a two weeks span.
"There's such a huge opportunity and LinkedIn, especially for small business owners, where you're looking at who you know, and who wants to help, and you want to get out in front of your network first," says Nikitaidis.
Similarly, Humphries predicts the future of integrated marketing lies in storytelling.
"I think that brands will continue focusing on telling their own story and communicating with their audience directly through all of the channels that are relevant to them," she explained.
Regardless of what the future holds, communications can't be ignored in the present. " It's not a nice-to-have anymore — it's a must-have," explains Nikitaidis.
"Getting smart about PR, marketing, influencer marketing, influencer partnerships is one of the best business tools," says Nikitaidis. "It's just truly one of the best things you can do to grow your business as a small business owner."