3D printing company opens new space in the Houston area
Apr 18, 2019, 1:41 pm
A Houston company just opened a new factory and community space, allowing anyone in the community access to 3D printing. Courtesy of re:3D
You now have access to large-scale 3D printers, thanks to re:3D. The Houston company opened its community space in its factory located next to the NASA Johnson Space Center in southeast Houston.
The company makes an affordable and customizable 3D printer, called the Gigabot, and has clients across industries in over 50 countries. Recently, re:3D introduced sustainable options, including printing using plastic waste. The 7,000-square-foot space opened to the public on Saturday, April 13, with free tours and mingling.
This unveiled area allows for anyone in the community to learn about the 3D printing process, tour the facility, attend social events or workshops, or even buy a printer or some of the company's merchandise.
"re:3D couldn't be more thrilled to connect with our neighbors and share our desire to grow in Houston," says Co-Founder and Catalyst Samantha Snabes in a release. "In addition to offering regular classes and tours, we're seeking feedback on how we support innovation in Houston whether it be partnerships, cross-activations, meetups or other creative connections."
re:3D launched in 2013 — Snabes and her co-founder, Matthew Fiedler, were involved at NASA before founding the company. The company hasn't taken any investment money and has bootstrapped for the most part, receiving $1 million from WeWork's Creator Award, a $250,000 NSF Phase I Grant, and some other pitch competitions. The team also received $40,000 equity-free funding from Parallel18 and $40,000 from Startup Chile. Last year, the company, which has a presence in Austin and completed MassChallenge Texas. The company has raised over $300,000 in a couple Kickstarter campaigns over the years.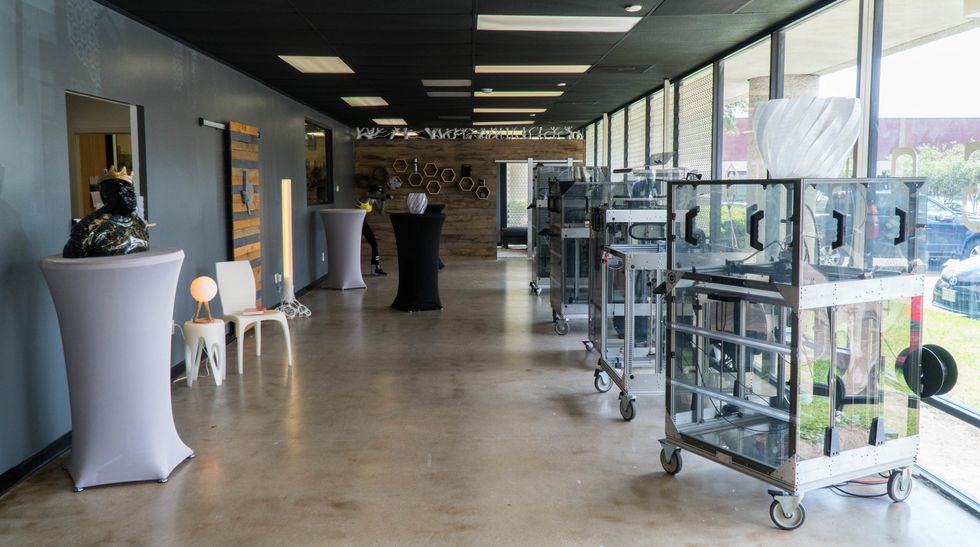 The company's printer, called the Gigabot, is on display and able to be used in the newly opened space. Courtesy of re:3D