Houston logistics SaaS company makes strategic acquisition
Aug 24, 2021, 8:35 am
Houston-based Velostics has made an M&A move to integrate new software onto its platform. Photo by Tom Fisk from Pexels
A Houston company that has created software to automate logistics at terminals, plants, and warehouses has announced the acquisition of a California-based startup.
Houston-based Velostics Inc. has acquired Terusama, a logistics tech company with dock management and truck scheduling capabilities. The company's software solution that speeds up truck loading and unloading w2ill be rolled into Velostics's platform.
"We are enthusiastic about integrating Terusama's truck scheduling with Velostics' load automation and check-in solutions. The combined offering enables Velostics to create a new standard for inbound logistics automation," says Gaurav Khandelwal, CEO of Velostics, in a news release.
"We can now bring to market unmatched ROI on logistics automation, by providing visibility into future demand, reducing delays associated with load prep and staging, eliminating manual errors, improving throughput and reducing operating costs and detention at our customers' facilities," he continues.
The two software-as-a-service solutions aim to reduce delays and errors, improve ROI, and provide visibility into deliveries and future product demand.
"Appointment scheduling technology is a powerful lever to track, measure, and improve operations at facilities large and small. Being part of the Velostics family gives Terusama the opportunity to not only continue that mission, but also to accelerate and to serve larger markets," says Andrew Denta, CEO of Terusama. "I have full confidence that Velostics' unique capabilities, out-of-the-box integrations with carriers and solid support resources will further fuel the growth at Terusama and further reduce cost to the customer."
The details of the deal were not disclosed. Founded in San Francisco last year, Terusama has raised $150,000 from Y Combinator, according to Crunchbase, and has two employees.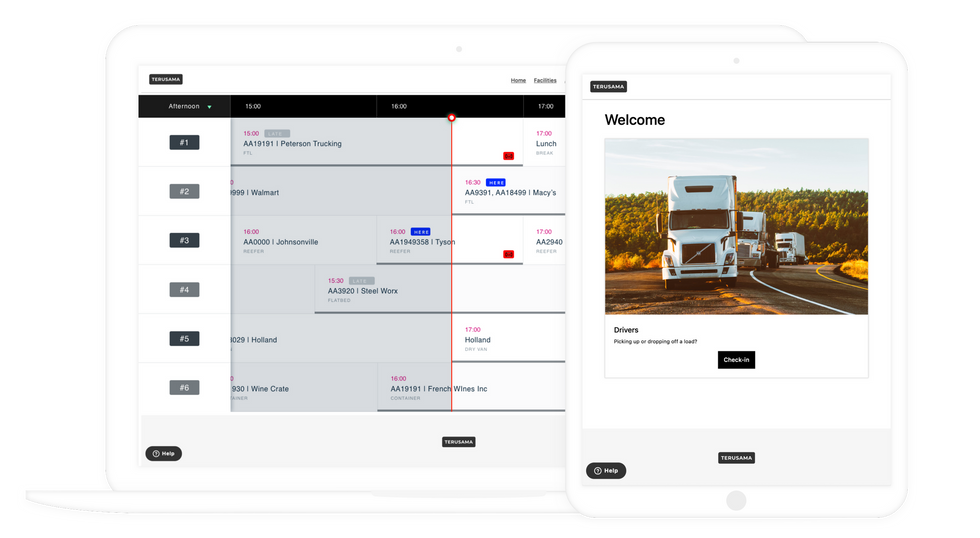 Terusama's trucking software will be implemented into Velostics's services. Image via terusama.com