Texas A&M team wins second round of Boeing-backed flight device competition
Apr 10, 2019, 11:05 am
A team out of Texas A&M University is a finalist for Boeing's GoFly competition. Courtesy of GoFly
A team from Texas A&M University has advanced in a global Boeing -sponsored competition called GoFly . The competition asks teams to create a personal flying device aircraft that is smaller, lighter, and quieter than any currently existing model.
Texas A&M Harmony is one of the five teams named a winner in GoFly's Phase II competition, which has more than 3,500 innovators from 101 countries across the world. The teams are now preparing for the Final Fly-Off expected to take place in 2020, at which point innovators will put their aircrafts to the test, competing at a final event showcase and for the remaining $1.6 million in prizes.
Dr. Moble Benedict leads the team and is an assistant professor of aerospace engineering at TAMU and founder of the Advanced Vertical Flight Laboratory with 15 years of experience in vertical take-off and landing aircraft concepts. Texas A&M Harmony is the only team from Texas currently in the competition.

"The first time I heard about the GoFly competition, I thought 'this is impossible I can't do it,'" says Moble Benedict, Harmony's team captain and an assistant professor of aerospace engineering at TAMU.
Benedict, who also founded the Advanced Vertical Flight Laboratory with 15 years of experience in vertical take-off and landing aircraft concepts, proposed the competition to his students and his connections in the field to build his current team.
"The first few months we spent brainstorming different ideas," Benedict tells InnovationMap.
The team created a design called Aria, which was inspired by the word's musical roots.
"Being engineers, we were trying to stick with a theme," says Carl Runco, a PhD student at the Advanced Vertical Flight Lab of TAMU. "We struck on 'Aria,' and thought 'that's it' because Aria is the solo of an opera and we're designing a single-person vehicle."
Aria is a high technology readiness level compact rotorcraft designed to minimize noise and maximize efficiency, safety, reliability, and flight experience, according to the GoFly website.
"The key outcome of this design is the rotor system we have designed," says Benedict. "We have come up with a very unique rotor system which is very quiet without compromising the efficiency. That's something very hard to do."
In addition to Benedict and Runco, the Harmony team has a total of 12 members — from PhDs to professors, including:
David Coleman, a PhD student conducting research at AVFL (Advanced Vertical Flight Laboratory)
Hunter Denton, a Masters student in AVFL at TAMU
Dr. Eric Greenwood, who received a PhD in Aerospace Engineering from the University of Maryland and is a researcher at NASA Langley developing rotor noise modeling methods and experimental techniques
Atanu Halder, a PhD candidate in Aerospace Engineering at TAMU
Dr. Vikram Hrishikeshavan, an Assistant Research Scientist at the University of Maryland with 14 years of experience in VTOL aircraft concepts
Dr. Vinod Lakshminarayan, a Research Scientist at Science and Technology Corporation, NASA Ames Research Center
Bochan Lee, a South Korean Navy UH-60 pilot and a current graduate researcher at AVFL
Farid Saemi, a PhD student at TAMU
Vishaal Subramanian, a Masters student at the Aerospace department of TAMU
Aswathi Sudhir, a PhD student in Materials and Structures from Aerospace department of TAMU.
Winning the competition would put the Texas university on the map for aerospace engineering.
"The recognition would be invaluable," says Saemi.
The GoFly competition is broken up into three phases that began in 2017 according to the website . The first phase focused on written reports detailing each team's design and plan. After advancing through that round, Harmony entered Phase II, which included a re-review of Phase I materials and a demonstration of the progress each team has made. The five winners of Phase II will compete in a fly-off in 2020.
Other teams based in the United States include Trek Aerospace FK2 Inc. and DragonAir Aviation. International teams include Silverwing Personal Flight, from the Netherlands, and Aeroxo LV, from Latvia and Russia.
"We're inspired and excited to see the strong progress that GoFly competitors have made on their bold, creative designs," says Greg Hyslop, Boeing's CTO, in the press release. "Their work confirms a principle that's at the core of both Boeing and GoFly: aerospace innovation changes the world."
While the team is focused on next year's fly-off competition, they see the potential for a company taking off.
"If we're successful enough and attract enough attention, there is definitely interest in turning the team into an official company," says Runco. "We want to be able to sell these things."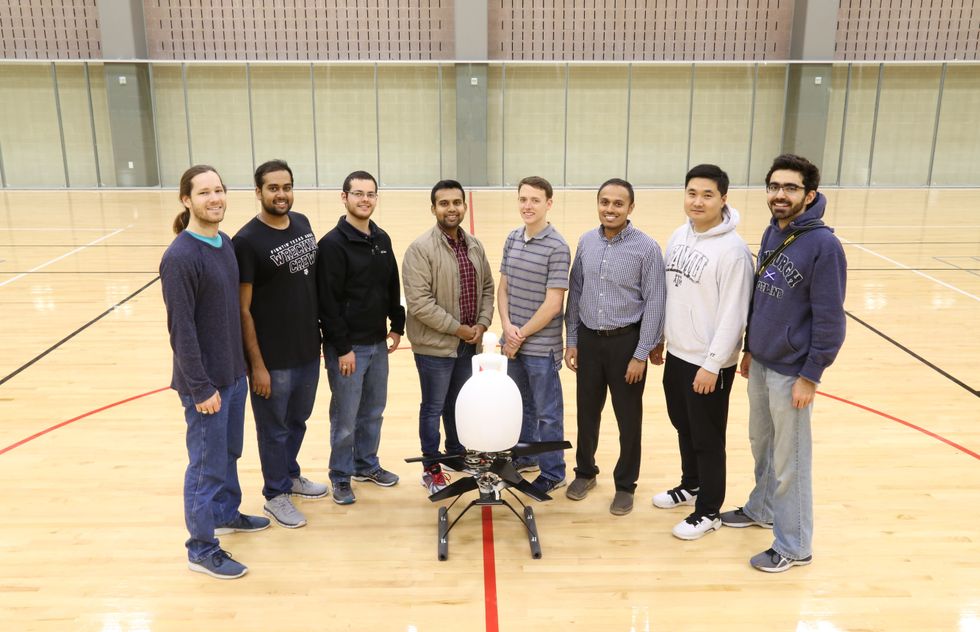 Texas A&M Harmony has 12 team members and is advancing to the final round of the competition. Courtesy of GoFly