Growing Houston-based drone software company snags government contract
Jan 27, 2023, 1:18 pm
Ty Audronis founded Tempest Droneworx to put drone data to work. Photo courtesy of Tempest Droneworx
Ty Audronis quite literally grew up in Paradise. But the Northern California town was destroyed by wildfire in 2018, including Audronis' childhood home.
"That's why it's called the Campfire Region," says the founder, who explains that the flames were started by a spark off a 97-year-old transmission line.
But Audronis, who has literally written the book on designing purpose-built drones — actually, more than one — wasn't going to sit back and let it happen again. Currently, wildfire prevention is limited to the "medieval technology" of using towers miles apart to check for smoke signals.
"By the time you see smoke signals, you've already got a big problem," Audronis says.
His idea? To replace that system with real-time, three-dimensional, multi-spectral mapping, which exactly where his company, Tempest Droneworx, comes in.
When asked how he connected with co-founder Dana Abramowitz, Audronis admits that it was Match.com — the pair not only share duties at Tempest, they are engaged to be married. It was a 2021 pre-SXSW brainstorming session at their home that inspired the pair to start Tempest.
When Audronis mentioned his vision of drone battalions, where each is doing a specialized task, Abramowitz, a serial entrepreneur and founder who prefers to leave the spotlight to her partner, told him that he shouldn't give the idea away at a conference, they should start a company. After all, Audronis is a pioneer in the drone industry.
"Since 1997, I've been building multicopters," he says.
Besides publishing industry-standard tomes, he took his expertise to the film business. But despite its name, Tempest is a software company and does not make drones.
That software is called Harbinger. Audronis explains that the real-time management and visualization solution is viewable on practically any device, including mobile or augmented reality. The system uses a video game engine for viewing, but as Audronis puts it, "the magic happens" on the back end.
Harbinger is not just drone-agnostic, but can use crowd-sourced data as well as static sensors. With the example of wildfires in mind, battalions can swarm an affected area to inform officials, stopping a fire before it gets out of hand. But fires are far from Harbinger's only intended use.
The civilian version of Harbinger will be available for sale at the end of 2023 or beginning of 2024. For military use, Navy vet Audronis says that the product just entered Technical Readiness Level (TRL) 5, which means that they are about 18 months away from a full demo. The latest news for Tempest is that earlier this month, it was awarded a "Direct to Phase II" SBIR (Government Small Business Innovation Research) contract with the United States Department of the Air Force.
Not bad for a company that was, until recently, fully bootstrapped. He credits his time with the Houston Founder Institute, from which he graduated last February, and for which he now mentors, with many of the connections he's made, including SBIR Advisors, who helped handle the complex process of getting their SBIR contract.
And he and Abramowitz have no plans to end their collaborations now that they're seeing growth.
"Our philosophy behind [our business] isn't keeping our cards close to our vest," says Audronis. "Any potential competitors, we want to become partners."
The company was just the two founders until five weeks ago, when Tempest's size doubled, including a full-time developer. Once Tempest receives its SIBR check, the team will grow again to include more developers. They are currently looking for offices in the city. As Audronis says, Tempest Droneworx is "100-percent made in Houston." Paradise may have been lost, but with Harbinger soon to be available, such a disaster need never happen again.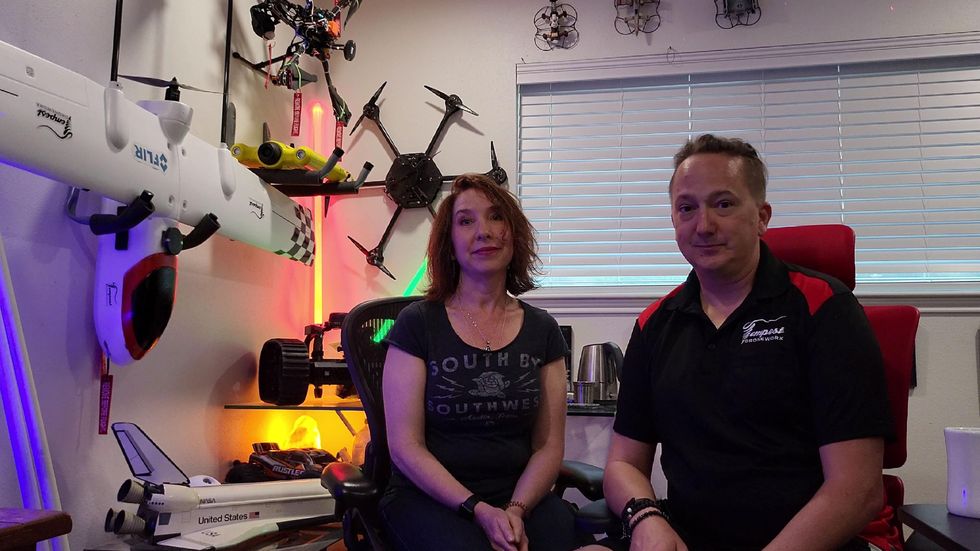 Dana Abramowitz and Ty Audronis co-founded Tempest Droneworks. Photo courtesy of Tempest Droneworx