Jul. 17, 2020 01:21PM EST
These three startups are innovating flood damage mitigation tools so that Houstonians can have peace of mind this hurricane season. Getty Images
In light of Houston's frequent floods, a local organization has formed to encourage innovation in resiliency — especially as the city moves throughout the 2020 hurricane season.
The Gulf Coast & Southwest Resilience Innovation Hub was founded last month by the Insurance Information Institute and ResilientH20 Partners in The Cannon's downtown location. The organization is looking into the best innovations within resiliency — especially as it pertains to Houston, where nine of the 10 most expensive hurricanes in the United States have occurred in the past 16 years.
"There has been a widespread interest in, and demand for, best-in-class actionable, alternative disaster mitigation solutions since 2017's Hurricane Harvey and subsequent storms caused extensive insured losses to autos, homes, businesses, and governmental properties," says Richard Seline, managing partner of ResilientH2O Partners, in a news release.
The organization held a virtual panel and pitch session that featured three flood-focused startups. Here are the three companies and their innovative solutions to flood mitigation.
True Flood Risk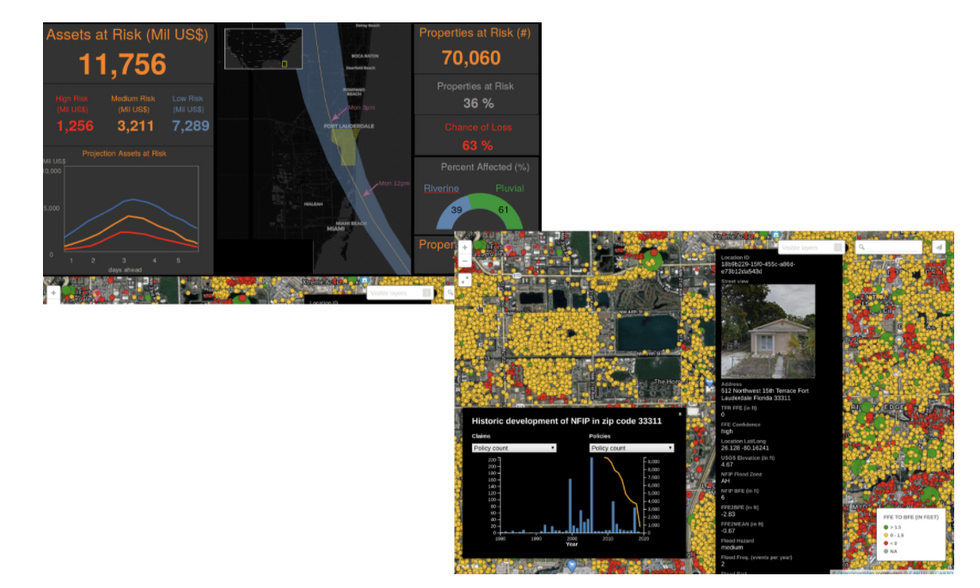 True Flood Risk uses machine learning and artificial intelligence to assess a home's flood risk. Image via truefloodrisk.com
Shelly Klose founded her company, True Flood Risk, after she observed Hurricane Sandy devastating New Jersey. But, she wondered, why some homes were hit harder than others. So, she created an artificial intelligence-driven property risk management platform that would easily indicate how susceptible to flood damage each home is. The company even has a way to measure the property's first-floor height based street view images.
"With this key data point for structural height coupled with ground elevation and flood zone data, you have a good indication if that property is at risk," Klose says.
The New York-based company allows users to run their address and learn about their flood damage risk for free — and that's something Klose says thats a tool she's seen used more frequently amid the pandemic.
"What we're finding is people have been so emotionally and financially hit so hard during this pandemic," Klose says. "The last thing you want to do is lose your house."
FloodFrame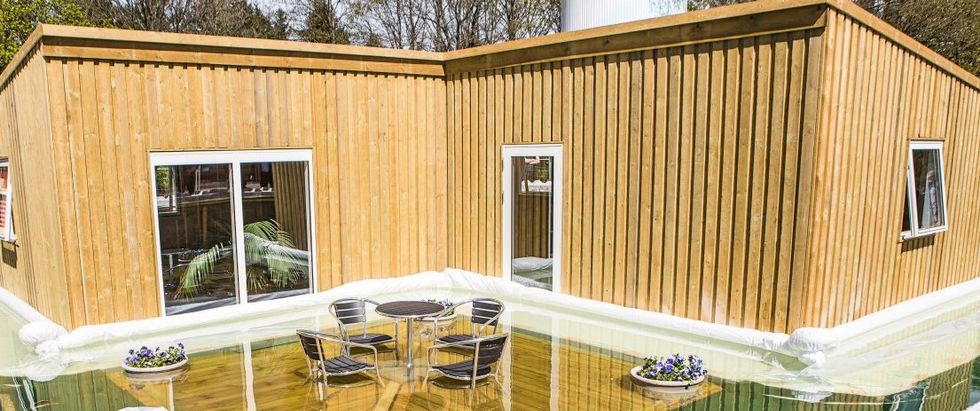 Self-deploying flood protection for buildings
FloodFrame is a self-deploying flood protection for buildings. Photo via floodframe.com
Part of the challenge of mitigating flood damage is that it can happen in an instant with little to no warning. FloodFrame provides a solution to that in its self-inflating technology that can detect and prevent flood damage.
FloodFrame works by using buoyancy. A lightweight cloth is wrapped around a tube is installed underground outside the perimeter of your home or business. One end of that cloth is attached to a box that is also installed underground. As flooding begins, an automatic system will release the lids to deploy the inflation of the tube that will protect the structure. When the flood comes in, the system will float on top of the flood — kind of like a pool noodle — and protect the structure from the water. It's easier to install than raising a house, for instance, and can be reused as a long-term solution.
Tasha Nielsen launched the U.S. iteration of FloodFrame — which originated in Denmark — by becoming the company's first franchisee. Now, that process how the company plans to grow and expand and Nielsen is working with home builders and contractors to provide the invention in new homes and buildings. Nielsen also hopes to work with insurance companies, since the device helps prevent costly payouts.

Climaguard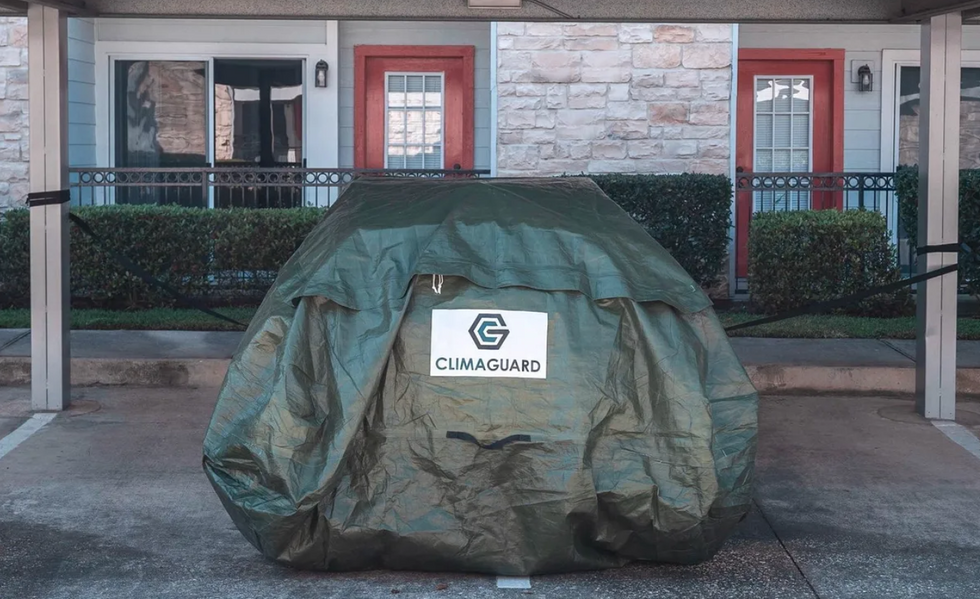 A waterproof container for your car.
Houston-based ClimaGuard is looking to help drivers protect their vehicles from floods. Photo via ClimaGuard/Facebook
Hundreds of thousands of cars were damaged during Hurricane Harvey, and those car owners faced financial burdens from having to find temporary transportation to repairing or even buying a new vehicle. Rahel Abraham, who lost her car during the storm, founded Houston-based ClimaGuard to help enable people to help protect their cars or possessions from the elements.
"We're providing a resilient, practical, and real-time solution," says Abraham.
The tool is easy to use and affordable, considering the costs of potential damages, with a starting price of $399. The average insurance payout for vehicles was $12,000, Abraham says, so it's actually a great risk mitigation tool for auto insurers.