Jul. 14, 2023 01:31PM EST
For the second year, Curtis Jackson's program supported Houston student entrepreneurs. Photo courtesy of G-Unity
The 50 Cent-backed high school entrepreneurship program wrapped up its second year of operation after helping over 100 Houston-area students build their small business plans.
G-Unity Business Labs, sponsored by Curtis James Jackson III — better known as 50 Cent — and Horizon International Group, allowed participants to build their own small businesses from the ground up. This year's cohort featured a variety of businesses, from a Caribbean hot dog food truck to a financial literacy course on personal finance.
In its second year, the program encouraged innovation and taught business acumen to entrepreneurial-minded high school students, culminating in an opportunity to create their dream companies. During this 28 week entrepreneurial internship program, around 150 students from Madison, Worthing, Yates, Kashmere, Booker T. Washington, and Wheatley high schools learned how to transform an idea they were passionate about into a full fledged product they can pitch to investors.
The after-school program consists of three stages – the first 20 weeks are about getting familiar with business concepts and building connections with peers and teacher volunteers. The next eight weeks are spent in the incubation phase as students are split up into teams and local entrepreneurs lead lessons, helping them workshop their ideas into a fleshed out corporation, before finally the teams compete in Hustle Tank, where students pitch their ideas to a panel of celebrity and entrepreneurial judges. At the event in May, the panel included 50 Cent and Mattress Mack. The five winning teams are now eligible to split $500,000 in seed money for their companies.
Summer Reeves, VP of design of Umbridge, is in charge of managing the incubation phase and said she has noticed a significant shift in the ideas the student groups have come up with between the two cohorts of the program; the first year saw flashier tech pitches. But during the second year of the program, Reeves said the students sought to address issues they see in their day-to-day lives, including a group who worked to develop support services to aid formerly incarcerated individuals after they are released.
"This year, a lot of students were more on the practical side," Reeves tells InnovationMap. "We actually had three teams that were focused on mental health apps which I think is a great example of what youth today are really focused on."
Reeves started off as a mentor to four teams during the incubation phase of the program last year providing students with guidance on how to set up their business plans, create prototypes, and pitch their companies to investors. After three of her teams won the Hustle Tank competition previously, she took over planning the incubation phase and recruiting other local entrepreneurs to act as mentors.
"We give them recommendations on how to pitch and how to frame their pitch but they also have the ability to get creative so we had some students who did short skits — some that did raps and spoken word type things — lots of creativity," Reeves says.
Patrice Allen, senior manager of G-Unity Business Labs, said they use the students' individual strengths and creative thought processes to place them into their teams, including asking them in interviews at the beginning of the year to try to sell her a pen to understand their pitching process.
"That's the question the students always remember," Allen says. "'Sell us this pen or pick something out and sell it to us.' It's the weirdest thing and they love it."
In building the teams at each school, Allen worked with educators to make sure every team had students with a variety of communication and planning skills as well as financial awareness. But Allen felt students were most successful when they incorporated their personal interests into their product design. The first place team of Hustle Tank, Caribbean Hot Dog Boyz, was especially emblematic of this mindset as they combined one member's background of selling hotdogs with another's Caribbean heritage to create a food truck that sells the unexpected combo of oxtail hotdogs.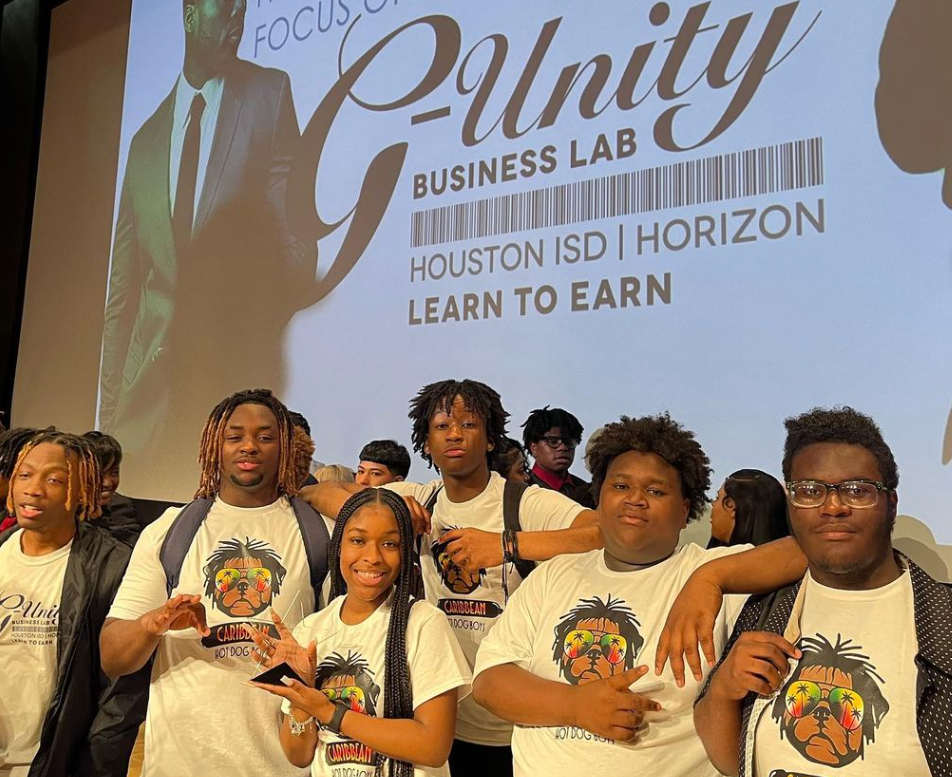 The first place team of Hustle Tank 2023 was Caribbean Hot Dog Boyz. Photo via @gunitybusinesslab/Instagram
"To actually taste the food that they prepared was phenomenal," Allen says "I have never ever thought that oxtails on a hotdog would be good but everybody was floored."
Elizabeth Martin, director of communications and marketing for Horizon who runs the behind the scenes of funding, said students from the winning teams are now working on solidifying their business plans to qualify for the funds from the G-Unity foundation to develop their companies. Martin also said 50 Cent will retain a relationship with these teams, acting with varying levels of involvement depending on his deal with the students as anything from a silent partner to an investor.
"They do not walk home with $500,000 in their back pocket," Martin explains. "We are investing in (them) — not giving — it's an investment."
The future of this program is uncertain as the Texas Education Association's takeover of HISD is still in its transition phase but Martin advised to keep a lookout for an ABC Nightline interview of 50 Cent discussing G-Unity Business Labs, which is expected to release soon.
"I've spent years donating my time and energy to communities in need. I started G-Unity to do the same—to give back to kids so they have it a little easier than I did," Jackson writes on the website. "Team building and entrepreneurship are skills I learned along the way, but they are so important to develop early. I look forward to G-Unity supporting programs that are doing the crucial work of teaching kids to excel at life.
From Your Site Articles
Related Articles Around the Web