Jul. 25, 2023 01:07PM EST
The new facility will be key to innovating across the Artemis missions. Photo courtesy of NASA and UTEP
NASA has opened a new center in Houston that's dedicated to digital space innovation for the future of spaceflight.
The Digital Engineering Design Center has recently opened in NASA's Johnson Space Center in Houston. The facility is equipping the aerospace engineering community with skills and processes for digital designing that can build, test, and refine innovations before the manufacturing and assembling process in order to to test them.
"The DEDC will help prepare a modern American aerospace workforce by equipping it with valuable skills in digital engineering and encourage even more students to become engineers," says Julie Kramer White, director of engineering at NASA Johnson, in a news release. "Collaborations like this one show we are committed to having the most talented, diverse, and motivated engineers that can continue to meet the exploration goals of the agency."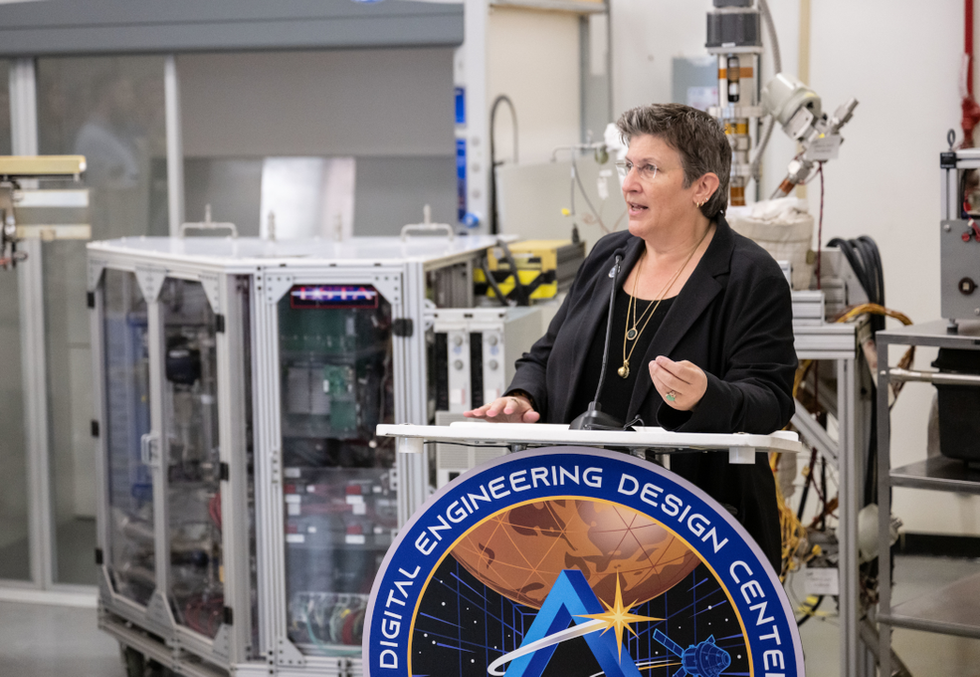 Julie Kramer White, engineering director at NASA Johnson, delivered a speech at the DEDC ribbon cutting ceremony at NASA Johnson. Photo courtesy of James Blair/NASA
Digital engineering has many benefits to NASA, including reduced risk and cost, streamlined development schedule, and the ability to work with experts remotely.
NASA's DEDC program is operated by the University of Texas at El Paso Aerospace Center. The partnership, which was celebrated at JSC and UTEP simultaneously, is also a part of a collaboration with Johnson's Engineering Directorate and the Space Technology Mission Directorate.
The enrolled engineers and students will work on NASA projects related to in-situ resource utilization, or ISRU, which is a type of engineering that utilizes materials native to space.
ISRU is a key focus of the Artemis missions to the Moon and Mars. The engineers from NASA will be the ISRU experts, while UTEP professors will contribute their digital engineering software expertise.