Oct. 18, 2021 01:48PM EST
Digital Fight Club is making its triumphant Houston return next week. Have you gotten your virtual tickets? Photo by Emily Jaschke/InnovationMap
In 2019, Houston innovators went head to head for the first Houston Digital Fight Club. While COVID-19 postponed a repeat match-up, the organizers have teamed up to put on a virtual event like none other.
Dallas-based Digital Fight Club, which first premiered in 2016, was founded by Michael Pratt who wanted the event structure to be intentionally different from your run-of-the-mill tech networking events. In Digital Fight Club, two innovation specialists "fight" against one another, with a referee steering the conversation, and the audience is involved and votes in real time for the winner.
The event came to Houston two years ago, presented by Accenture, and the two organizations wanted to be able to replicate the high-energy event online for 2021. (Note: InnovationMap is on the steering committee for the event.)
"We as Accenture are stoked to bring back Digital Fight club to our amazing city where provocative Houston topics will be debated by some of H-Town's most brilliant minds," says Accenture Houston Innovation Hub's Jessica Guerrero, who serves as the associate hub director.
The previous Houston event covered innovative topics, such as artificial intelligence, the future of primary care, and technology's hold on humans. Check out overheard moments and photos from the last event.
"Houston's well deserved reputation as an innovation city is the perfect ingredient for Digital Fight Club," Pratt tells InnovationMap. "What better forum to see the best minds debate the most pressing issues in business and technology."

Through the work of the two teams, Digital Fight Club will return to Houston on Tuesday, October 26, at 7 pm, virtually. Tickets are $20 per person and can be purchased online. This year's topics and fighters includes:
Energy Transition: What technology is king to get us there? Fighters: Moji Karimi, CEO of Cemvita Factory, vs Trevor Best, CEO of Syzygy Plasmonics
Space Race: Who will lead space commercialization? Fighters: Trent Martin, vice president of aerospace at Intuitive Machines, vs Steve Gonzalez, partner at Seldor Capital (retired NASA)
Digital Divide: The greatest barrier to bridging the divide? Fighters: Ashley DeWalt, managing director of DivInc, vs Jesse Martinez, co-founder of LatinX Startup Alliance
Sweet Teams are Made of This: The post-pandemic employee experience. Fighters: Brad Deutser, CEO of Deutser, vs Joe Alapat, CEO of Liongard
Innovation in a Virtual World: Impossible? Fighters: Lawson Gow, founder of The Cannon, vs Robert Pieroni, director of economic development at Central Houston Inc.
Each fighter will open with 45 seconds each, followed by two 30 seconds rebuttals each. Referees will have a chance to ask a follow up, then each fighter will respond for 15 seconds. Referees include:
Mary Beth Gracy, managing director of Accenture's Houston office
Scott Gale, executive director of Halliburton Labs
Sam Gunderson, director of partnership development at NASA
Elizabeth Haines McGee, director of innovation and engagement at Intel
Steve Rader, deputy director of collaborative innovation at NASA
Clearly, you shouldn't expect your average business event call. The platform that's hosting the event allows for attendees to join "rooms" with friends, coworkers, and more. Within the rooms, you can chat about the fighter's argument and even respond with emojis. You can even throw a tomato at a fighter you disagree with.
"As an attendee get ready to move beyond the traditional Zoom call and be immersed in an interactive environment where you can cheer on your favorite fights or even show your disagreement with digital tomatoes, all from your own virtual pink couch," Guerrero says. "So grab your favorite humans, come attend this entertaining experience and witness the throw down."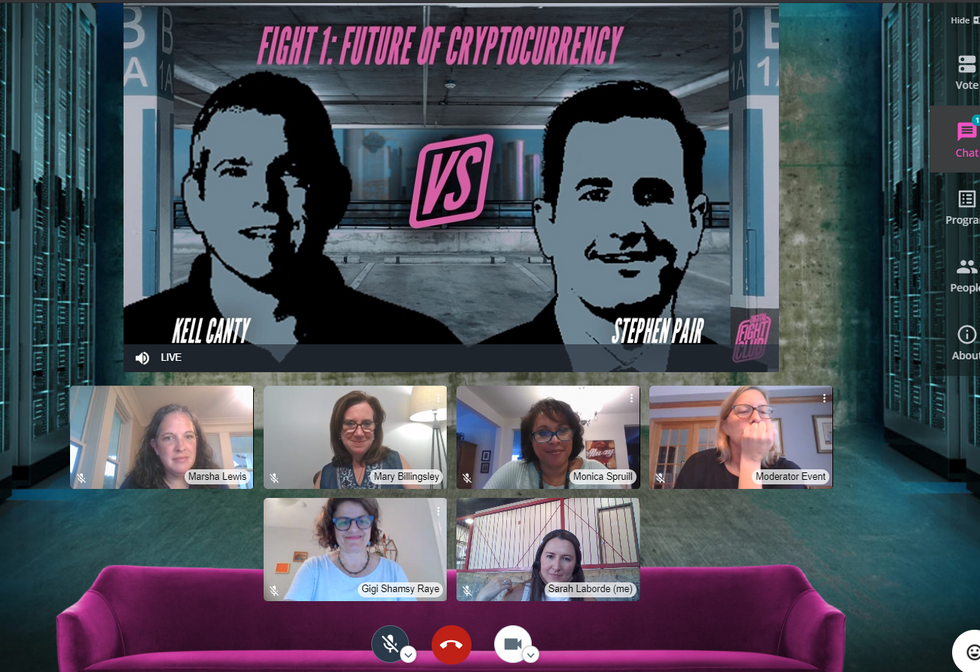 The virtual edition of Digital Fight Club first took place in Dallas. Now the interactive event is coming to Houston. Photo courtesy of Accenture