Space Center Houston blasts off with new, cutting-edge fan and research spaces and more on 30th anniversary
Oct 20, 2022, 2:26 pm
Fans can visit the lunar surface at Space Center Houston. Rendering courtesy of Space Center Houston
In a town dubbed "Space City," it takes a significant development to be dubbed a game changer in anything cosmic-related, but our favorite stellar destination has done so with some big developments.
Space Center Houston has revealed a new plan to address the ever-growing need for space exploration learning and training with two massive structures centering on our moon and Mars at its fan-favorite destination (1601 E NASA Pkwy.).
The new, appropriately dubbed Lunar Mars facility will gather guests, NASA, commercial space partners, colleges, universities, and global space agencies to collaborate on new technologies for present and future human spaceflight, per press materials.
Meanwhile, a new, elevated exhibit hall over the two surfaces will offer the public immersive experiences to observe astronaut training first-hand while experiencing the future of space exploration as humans return to the Moon and eventually on to Mars.
Specifically, the Lunar Mars facility will boast simulated surfaces of the moon and Mars, plus modular surface labs. According to Space Center Houston, these labs will design and test instruments and techniques for surface exploration, support testing lunar and Martian rovers on a one-mile indoor track, allow engineers and astronauts to practice working in reduced gravity, and conduct important emergency procedures.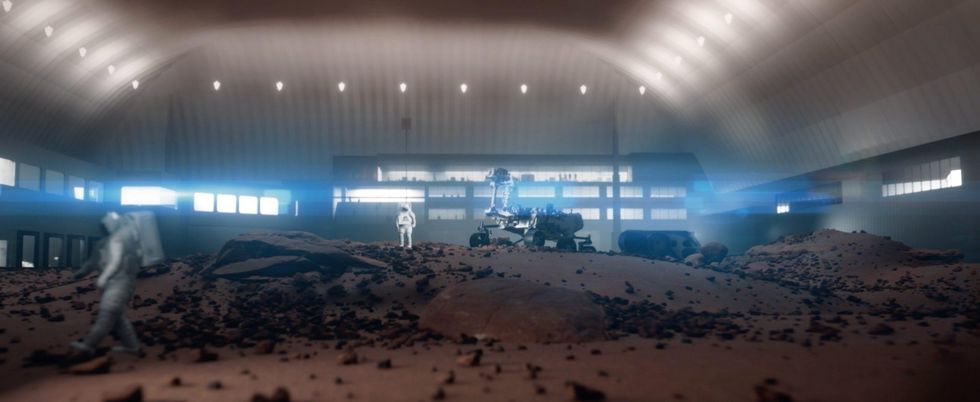 From the earth to the moon in the new facility. Rendering courtesy of Space Center Houston
Guests can look forward to an immersive experience that allows viewing of astronaut training in-person, while also offering education on missions, challenges and benefits of the space industry.
"Imagine having a front row seat on the surface of the moon or Mars right here in Houston," noted William T. Harris, the center's president and CEO, in a statement. "Space Center Houston is recognized for providing meaningful, moving experiences about people and the courage, innovation and teamwork they use to expand the boundaries of what's possible. We inspire our guests to connect with the significance of space exploration, to pursue their own path in space, or simply follow along as incredible feats of human spaceflight continue to bring joy and wonder to the world."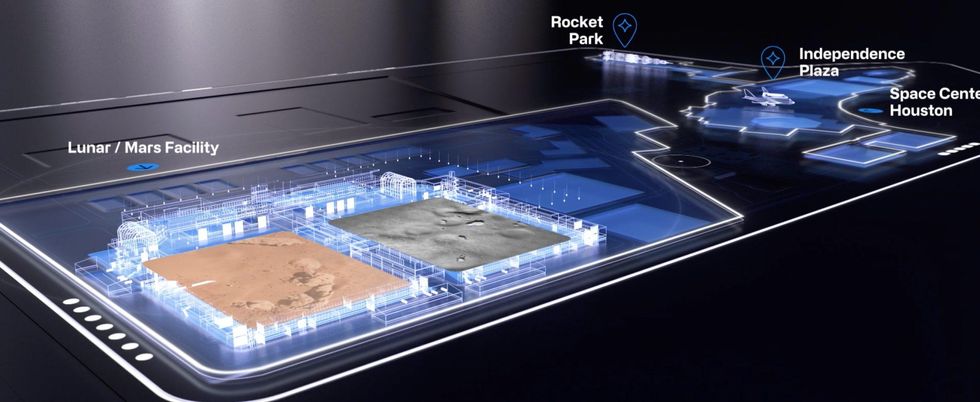 A look at the massive new facilities. Rendering courtesy of Space Center Houston
More on that game-changing news: Space Center Houston also revealed a new logo/brand identity that the organization says in press materials represents the evolution of Space Center Houston and its future, and its mission to educate the public.
All this comes as part of a Facilities Master Plan and more plans to expand, which will be revealed in 2023.
Sound timing, as current estimates show that the global space industry is projected to grow nearly five times its current size by 2050. With 77 government space agencies currently operating around the globe, Texas boasts a key advantage as home to 17 of the world's top 20 aerospace manufacturers, per the center.
Since its inception 30 years ago on October 16, 1992, the beloved Space Center Houston has seen more than 24 million starry-eyed guests enter its gates. Clearly, however, it's time to rocket forward, as Houston and the nation, to quote President John F. Kennedy, choose to go to the moon, the Red Planet, and beyond.
"Space is expanding once again and a new space age is upon us," Harris added. "With new ambitions, new players and new challenges, we will shift our focus from being a curator of past achievements to also facilitating new feats in space."
------
This article originally ran on CultureMap.