Rising star chef delivers new  'virtual restaurant' concept to Houston
Jun 25, 2019, 10:55 am
This restaurant concept will have no dining-in option for guests and will act as an incubator for restaurant ideas.
Photo by www.jillianekristine.com
Gabe Medina is back. The chef, who earned raves for his work at restaurants such as Kata Robata, Soma, and Aqui, will launch a new project this week in partnership with beverage expert Steven Salazar (The Kirby Group).
Under the banner of Click Robot Run, Medina will open five restaurants in a commercial kitchen in Rice Military (4901 Rose St.). Rather than traditional sit down establishments, they're "virtual restaurants" that will only serve diners via pick-up, to-go, or delivery apps such as Uber Eats and DoorDash. They are:
A&J Provisions (opens Wednesday, June 26): a comfort food restaurant that offers both an array of grilled meats as well as vegan and vegetarian dishes.
Bowling Club (opens August 2019): a Japanese rice bowl restaurant inspired by Medina's time working at Narisawa in Tokyo, widely considered one of the best restaurants in the world.
Sandwich Legend (opens November 2019): meatball subs, cold cuts, sandwiches inspired by Houston's immigrant cuisines, and more will be on the menu at this restaurant.
7000 Islands (opens January 2020): Medina will explore Filipino cuisine its various forms at this restaurant, which is inspired by both his heritage and trips to the island nation.
Fifth concept: TBD. Salazar says that he and Medina will develop the fifth restaurant in collaboration with the chefs the hire to run the other four.
While one media account stated the concepts will open in sequence in a style similar to Chris Shepherd's One Fifth, that's not correct, according to Salazar. Instead, the five concepts will operate simultaneously — making it more like a food hall where each restaurant could someday be spun off into its own brick and mortar space.
"It's important to remember there's two aspects of this," Salazar says. "We like the idea of being able to utilize multiple concepts out of the same facility, that's one rent, one labor force.
"The second thing to remember is this is an incubator for us. It's about testing multiple menus for multiple concepts. It's about getting data from multiple sources: Favor, DoorDash, even our neighbors stopping by."
Operating as a "virtual restaurant" without a dining room means that one set of cooks can do the work, which reduces costs. It also means only paying rent for one location while they use the sales data to determine which concepts to promote.
While Medina is the chef who will develop the menus, train the cooks, etc, Salazar says his role is to serve as a sounding board and provide logistical support; he will also maintain his current role as the operating partner of The Kirby Group (Wooster's Garden, Heights Bier Garten, Holman Draft Hal, etc). The two friends have a history that goes back to the two years they spent working together at Kata Robata.
"Gabe is like one of my brothers, and I want to be part of his success," Salazar says. "I said, 'please, can I help you? Let me be involved if you'll let me.' I just have so much respect for him as a chef."
------
This article originally ran on CultureMap.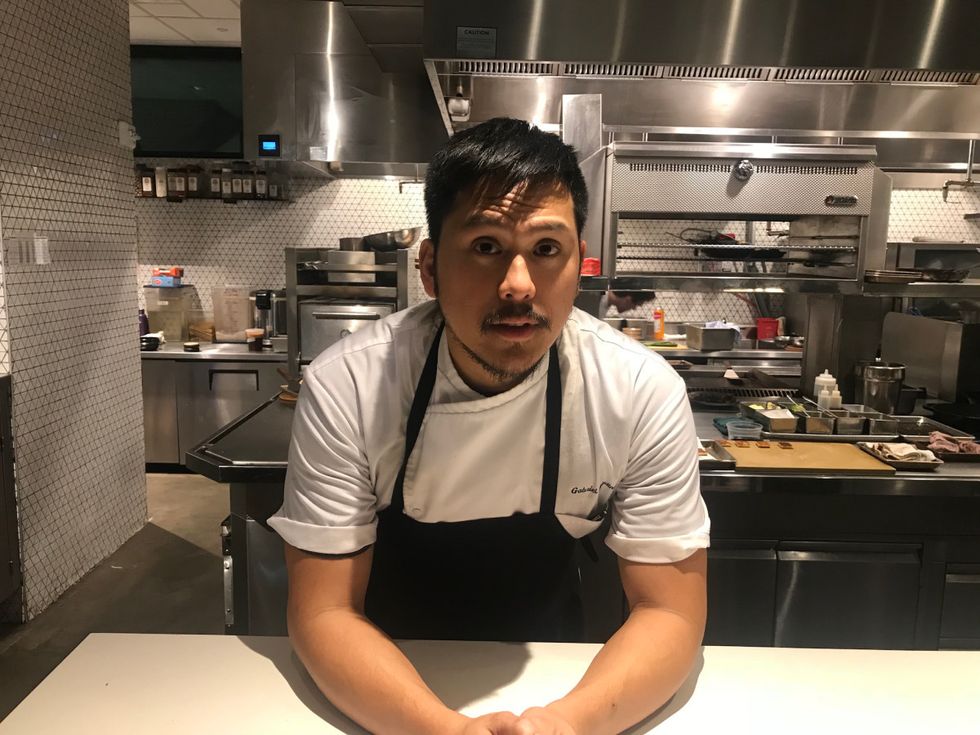 Gabe Medina is the culinary mind behind Click Robot Run. Photo by Eric Sandler