Report finds Houston venture capital firm has made the most Texas deals since 2010
Apr 5, 2019, 1:32 pm
Texas venture capital deals had its first spike in volume last year since 2013. Getty Images
When it comes to tracking venture capital deals coming out of Texas since 2010, a Houston fund tops the list — but just barely. Houston Angel Network edged out Austin-based Central Texas Angel Network by one deal.
The report by PitchBook counted deals from 2010 up to March 4 that were made with Texas companies. Ten VC funds were listed and, aside from HAN, Mercury Fund was the only other Houston VC. The other eight funds are located central Texas — with the exception of Right Side Capital Management, which has invested in 45 Texas companies since 2010.
"Texas is currently in a transition powered by high-tech investments that lie in contrast to the slow-paced cattle ranches spread throughout the rural areas of the country's 28th state," the report states. "Partly as a result of the relatively new tech scene, Texas was home to three of the 10 fastest-growing cities in the United States in 2018, according to Forbes."
According to the data, VC funding had been on a downward trend since 2013, when the state raked in $2.83 billion in 536 deals. However, 2018 marked a turn for the state with $3.11 billion in 461 deals — a smaller deal count compared to 2013.
Despite this VC deal growth, compared to the rest of the country, Texas ranks fourth when it comes to VC investment market share. California holds over 52 percent of the market, New York has over 10 percent, and Massachusetts has almost 10 percent itself, per PitchBook data. Meanwhile, Texas reportedly holds only 3.43 percent of the market.
PitchBook also identified the top 10 VC deals investing in Texas companies closed since the beginning of 2018 — none of which were into Houston companies. The list's top three had nine-figure investments — Austin-based Bungalo with a $250 million Series A, Dallas-based Peloton Therapeutics with a $150 million Series E, and Richardson, Texas-based Hedera Hashgraph with a $101 million Seed round.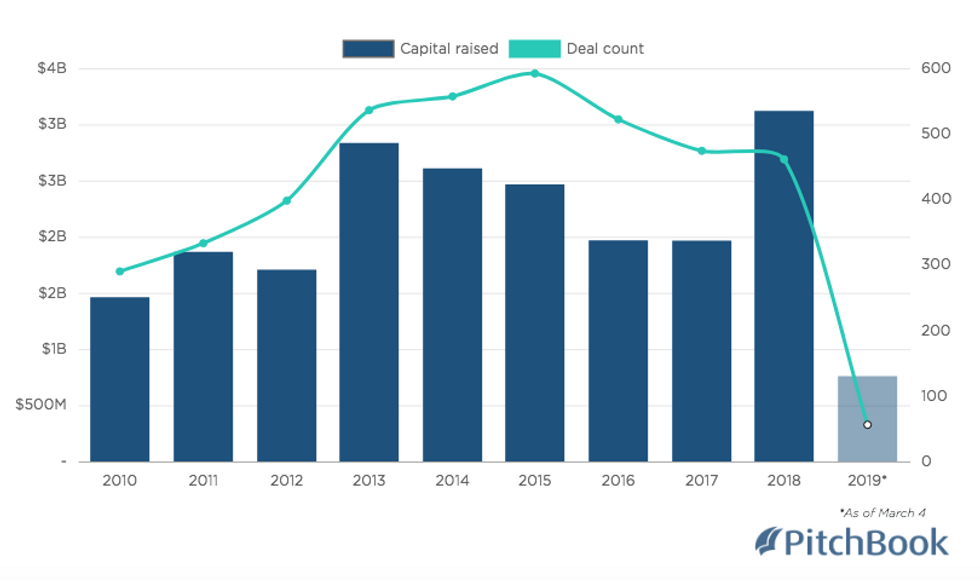 Graph via PitchBook