New sports festival reveals plans to take over downtown Houston next spring
Jun 7, 2023, 3:11 pm
A new sports festival is headed to Houston next year. Rendering courtesy of Pokatok
A Houston team announced their plans to bring the "world's fair for sports" to downtown Houston in April 2024.
Pokatok, the four-day festival, will feature a sports tech expo, a film festival, speakers and panels, live music, pitch competitions, and more. The venue will be George R. Brown Convention Center, Discovery Green, and various nearby hotels, according to the release.
Gow Companies, founded by Lawson Gow (who is the son of David Gow, InnovationMap's parent company's CEO), announced that the team has secured support from Houston First, the Greater Houston Partnership, and the Harris County Houston Sports Authority to put on the event, which is slated to take place April 4-7, 2024. The company also owns Houston Exponential and a sports accelerator called Pokatok Labs.
"Pokatok will not only be the largest gathering of the entire sports tech ecosystem, it will also be a true fan festival for sports enthusiasts," says Gow in the news release. "Everyone speaks the language of sport, it's an incredibly powerful unifier of our society, and this festival will bring together people from around the world to experience hundreds of events revolving around the new and the next in sport."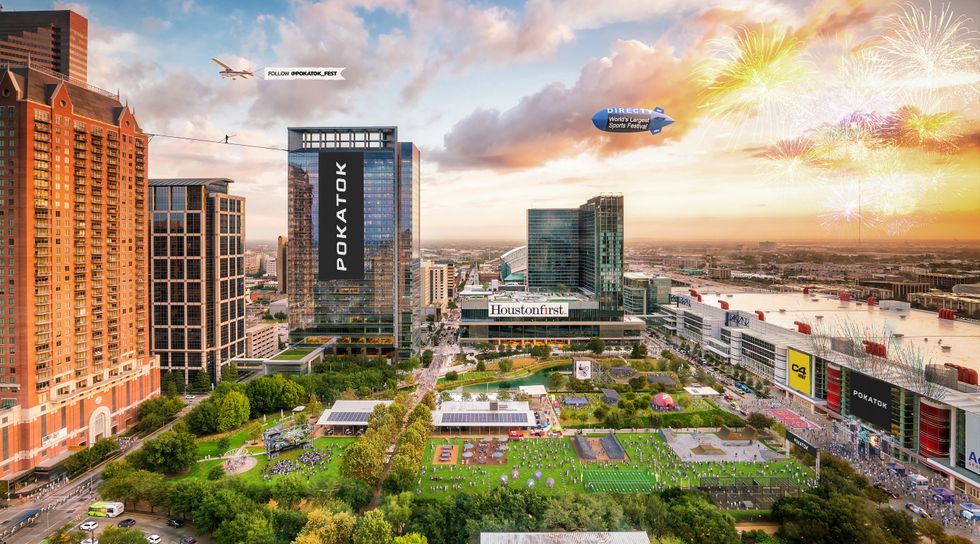 The festival will take place in April 2024 in downtown. Rendering courtesy of Pokatok
The festival will feature two tracks — one focused on sports innovation and the other surrounding a fan experience. Pokatok X will include an expo and showcase focused on sports innovation, bringing together startups, investors, accelerators, athletes, and industry experts to dive into sports tech.
The Pokatok Fan Festival's track will include product releases, demos for sports technology, sporting events, competitions, tournaments, and more.
Houston is no stranger to hosting major sport events, Harris County - Houston Sports Authority CEO Janis Burke points out in the news release, including the 2023 NCAA Men's Final Four and the upcoming 2024 College Football National Championship, the 2024 Cricket World Cup, and the 2026 FIFA World Cup.
"Houston is known as one of the best sports destinations in the world," Burke continues. "As an organization, we are consistently looking for ways to innovate and grow in the sports sector. Events like Pokatok are great for advancing sports within the region and providing unique opportunities for our community!"
Tickets are expected to go on sale in the fall, and the organization is looking for potential speakers and partners. The festival's name derives from sport of pok-a-tok, which dates back thousands of years as the world's first team sport played throughout Mesoamerica.
"The City of Houston is a sports town to its core and has been host to some of the greatest events and moments in sports," says Mayor Sylvester Turner in the release. "Pokatok will help further Houston's vision of being a destination city for global sporting events and innovations. The business community also supports this venture, and I thank them for their involvement and support. This project is an excellent example of local business leaders joining forces to expand the attractions the City has to offer to both residents and visitors."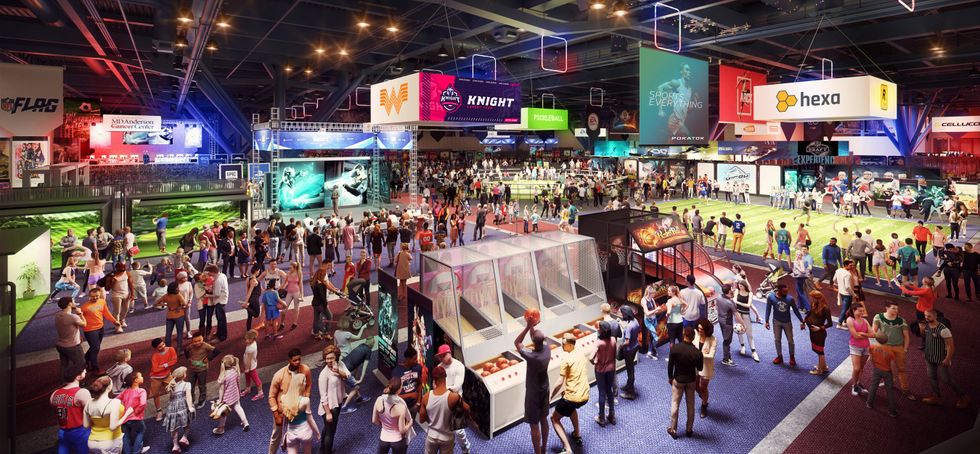 Pokatok will take place in and around the George R. Brown Convention Center. Rendering courtesy of Pokatok