Family-owned composting startup redesigns how Houston disposes of waste
Aug 4, 2020, 8:12 am
A Houston-area family has made it their business to help Houstonians reduce waste in a convenient, sustainable way. Photo courtesy of Happy Earth Compost
Jesse Stowers has always strived to do his part for the environment. From recycling and making eco-conscious choices, the Stowers were doing everything right, but was it enough?
The family of five was throwing away two trash bags of waste a day that would later end up in landfills until Stowers stumbled on composting as a solution. In May, he launched Happy Earth Compost, a company set on making Houston more sustainable.
If you're unfamiliar with composting, get ready for a crash course. Composting is a sustainable method of decomposing organic solid wastes and turning that waste into compost, a substance that helps plants grow. Food scraps and household items like rice, pasta, meat, poultry, fish, vegetables, fruits, coffee grounds, spoiled food, and tea bags are just a few of the many things that can be composted rather than thrown away.
"Your food waste and compostable waste is anywhere from 25 to 50 percent depending on the family," explains Stowers. According to Happy Earth Compost, one human creates an estimated 1,642 pounds of trash each year.
When looking at striking statistics, it's clear composting has a direct impact on the future of our environment. In Houston, 81 percent of waste ends up in landfills that pile high, and the city exceeds the national waste average by 25 percent. While the smell of landfills may make you wince, the repercussions of exhausting those landfills are even more displeasing.
Not only are the plots of land permanently lost from agricultural and home development, but the landfills also emit methane gas, a greenhouse gas that's 28 times more potent than carbon dioxide, according to The Independent.
What started as the Stowers family's resolution to be eco-friendly became a full-blown business plan. After Stowers attempted to compost at home for his own family, he soon partnered with New Earth Compost in Fulshear, Texas, as a drop-off location for the waste and did a test drive of the service with his neighbors back in March. Happy Earth Compost now serves 350 homes in the Greater Houston-area and has plans to expand to College Station.
Happy Earth Compost has created a service, with pricing ranging from $15 to $35, that provides Houstonians with the bins to compost and picks up the waste from your door. The buckets can be picked up weekly, bi-weekly or monthly while the company does all of the labor and dirty work to help you compost. A new $5 drop-off option is also available for Houstonians who are willing to drive to one of the applicable farmers' markets.
Subscribers can also get free compost to use in their gardens, what gardeners often call "black gold" because of its value and benefits, says Stowers.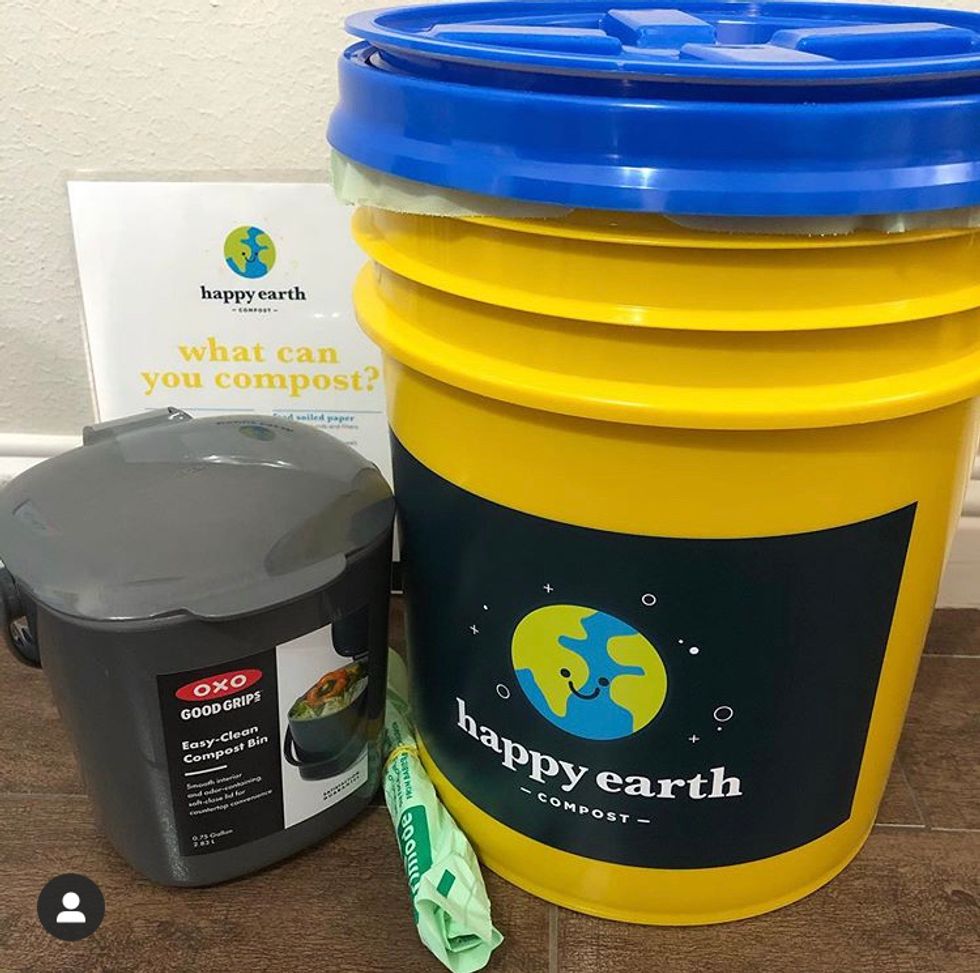 Members receive equipment and instructions upon registration. Photo courtesy of Happy Earth
The family-owned business' typical week involves picking up buckets from 300 houses, dropping off compost, cleaning those buckets, and starting the process all over again.

"It's not the most glamorous thing, but it's getting people set up to do it. We're trying to make things easy for everybody by doing the hard work on our end," he says.
Ease is a key feature that helps the service stand out to Houstonians. Composting in Houston no longer requires the personal labor of investing in a compost bin, balancing the mixture of materials, measuring the temperature of your compost, and ordering worms to help accelerate the process (you read that right).
At various farmers' markets around Houston, Stowers is quick to point out the convenience of the program he's created. "It's hard to convince people to compost. It's easier to convince them to try something that's beneficial and simple," he explained.
Jenna Arbogast, a Happy Earth Compost customer, had dabbled in composting on her own but never committed to maintaining it at home. "When I found out about Happy Earth Compost, I so excited that someone was taking the initiative to extend this city-wide. Being that we are such a large city, we have such a great opportunity to heal our environment," says Arbogast. "I really love contributing to something as a collective. Even though I could compost at home, I really wanted to support this initiative," she says.
To Arbogast, who has been using the service for three months, convenience and transparency have made Happy Earth Compost a joy to work with. "You get all the benefits of composting without the maintenance, and you're supporting a good cause," she says.
Since its May launch, the Happy Earth Compost Instagram has grown by over 1,900 fans. The Stowers family has been amazed by the response and hopes to expand to more households in Houston.
"I think there's definitely a movement to be more sustainable to actually consider what we're doing and take care of our stuff, including the earth," says Stowers. He envisions a future where composting is taught to future generations as a fundamental need for the environment.
"It may not cost us now, but it will cost us eventually. What can we do now to make a difference now?" asks Stowers.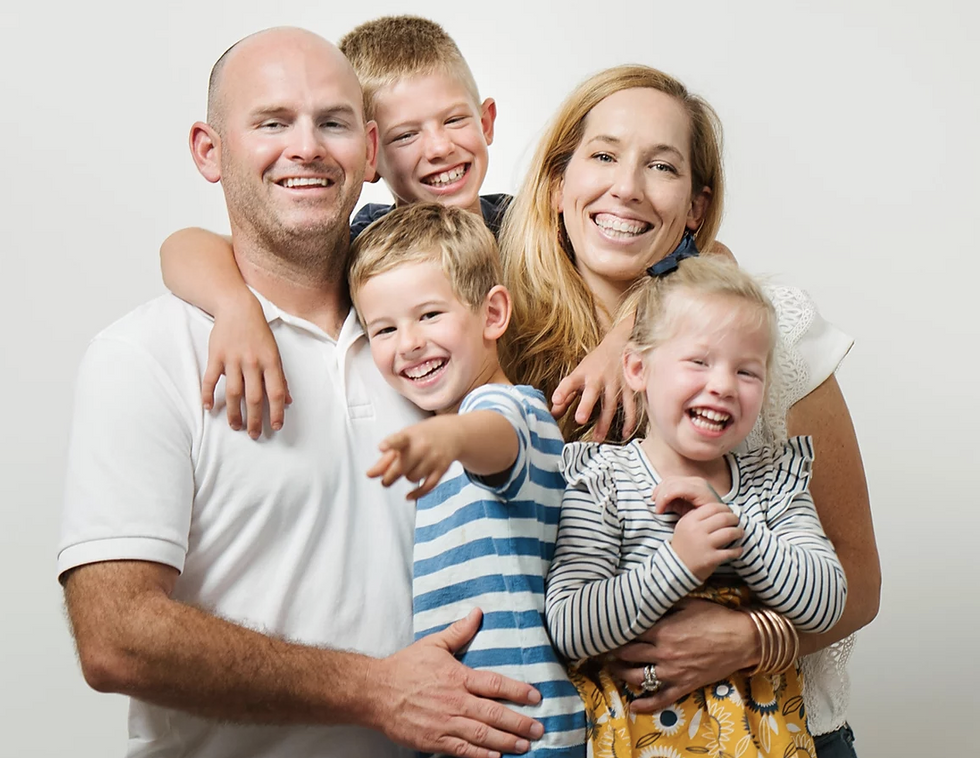 Jesse Stowers started his family business in May. Photo via happyearthcompost.com