New surfing lagoon paradise to bring ocean-perfect waves to Houston
Oct 14, 2022, 10:37 am
Surf's up soon for Houstonians thanks to this new innovative development. Rendering courtesy of Beach Street Development
Thanks to its relative proximity to the coast, Houston has always enjoyed an underground surf culture (be it shortboarding, longboarding, or even tanker surfing). Now, those who walk the nose and shred can at a new, world-class surf destination coming to Generation Park in north Houston.
HTX Surf will ride into Generation Park in fall of 2024, per an announcement by creators Beach Street Development, the company pushes the barefoot life with its man-made surfing lagoons.
Why the north Houston locale, versus closer to Galveston? Beach Street notes in press materials that the lagoon park is a mere 10 minutes from Bush Intercontinental Airport, making for easy access for visitors from all over.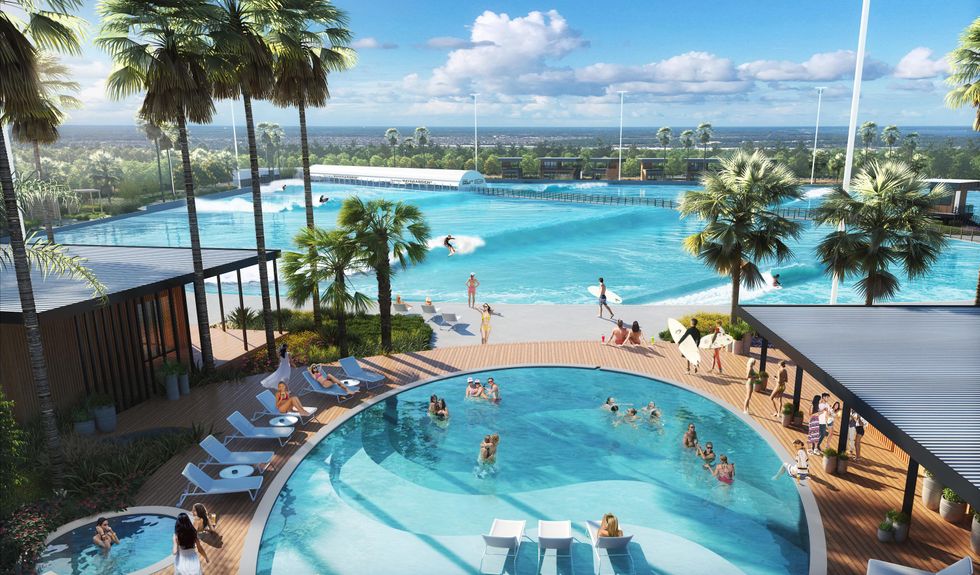 Rendering courtesy of Beach Street Development
Surfers and potential riders are sure to be stoked with the customizable waves that create an ocean-like ride every time. Wavegarden machines create up to 1,000 waves per hour in the 6-acre surf lagoon, where up to 70 riders per hour can ride.
Pros can hit one designated area, while newbies (and kooks — we kid!) can surf the beginner zone. Speaking of newbies and kooks: on-site classes will help fine tune those new to surfing.
As for the park, the destination will also sport a private members' club, hot tubs, fire pits, swimming pool, beach areas, skateboard pump track, and an event lawn for bands and festivals, per a release. Food, drink, and a cafe concept will also overlook the surf area.
Construction on the new lagoon is slated to begin in early 2023. Those looking to get ahead can score limited exclusive membership opportunities online including: early access to the surf lagoon reservation platform, private member surfing sessions, access to the private clubhouse and more, access to free or discounted amenities and events (concerts and surf contests), and more.
"We're thrilled to welcome this innovative, world-class surfing destination to Generation Park. Such a unique amenity is a great asset for Houston and will attract a wide range of personalities--from professional surfers, amateur boarders, families, and corporate groups among others," said Ryan McCord, president of McCord Development and owner/developer of Generation Park. "The amenities and experiences at HTX Surf will rival a best day on the water, whether you're an expert or new to the sport."
Consider this a chance for land-locked locals to catch a wave, and for kooks to learn some surf etiquette before hitting the ocean.
This article originally ran on CultureMap.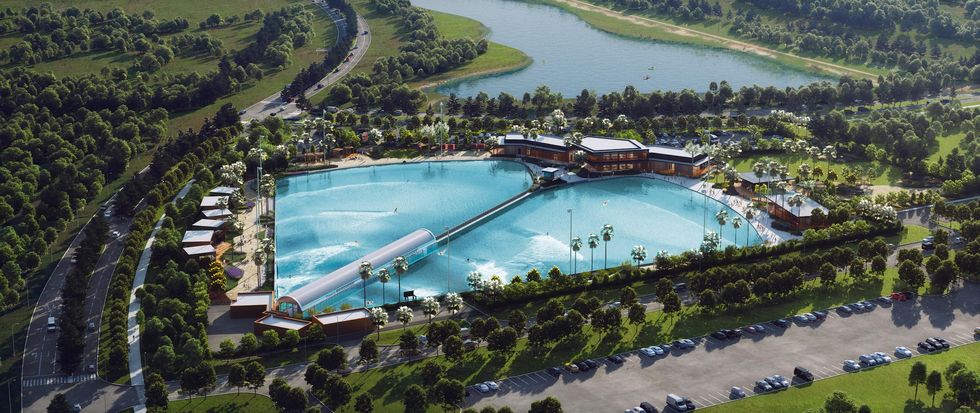 Rendering courtesy of Beach Street Development