Houston activewear founder doesn't sweat the small stuff
Nov 21, 2018, 1:06 pm
Megan Eddings wants her ethical and bacteria-resistant activewear line to be as big as Lululemon — heard of it? Courtesy of Accel Lifestyle
For Megan Eddings, it has sometimes felt like the world was against her and her startup. Just about everything that could have gone wrong for her, went wrong — sometimes, multiple times.
Eddings first had her idea for a bacteria-resistant, ethically-made material for workout shirts over four years ago, and, much to her disappointment, she still hasn't launched.
"I never thought it would take this so long to make a T-shirt," Eddings says. "But, if you do it right and in an ethical way, it just takes a little longer."
She's finally set to launch in the second quarter of 2019, she says, and her supply chain is almost complete with manufacturers across the United States — all with ethical working environments verified by Eddings herself.
Hers is a story of trial and error, but, more importantly, having a positive attitude, showing other female founders how to keep your head up when the world's getting you down. Throughout her past few years, while she was perfecting her material, Eddings learned every lesson about starting a company — the hard way — and she's passionate about sharing her story and motivate others not to be deterred by setbacks on the mission to creating something.
Ethical fashion
Courtesy of Accel Lifestyle

Accel will start with different styles of men's and women's tops — with plans to expand to other activewear clothing.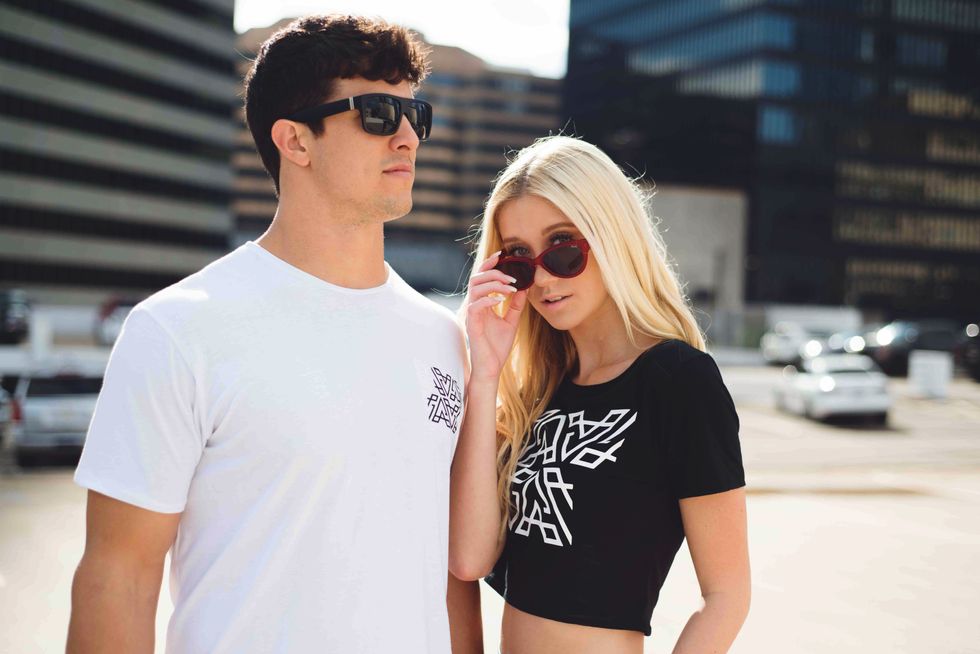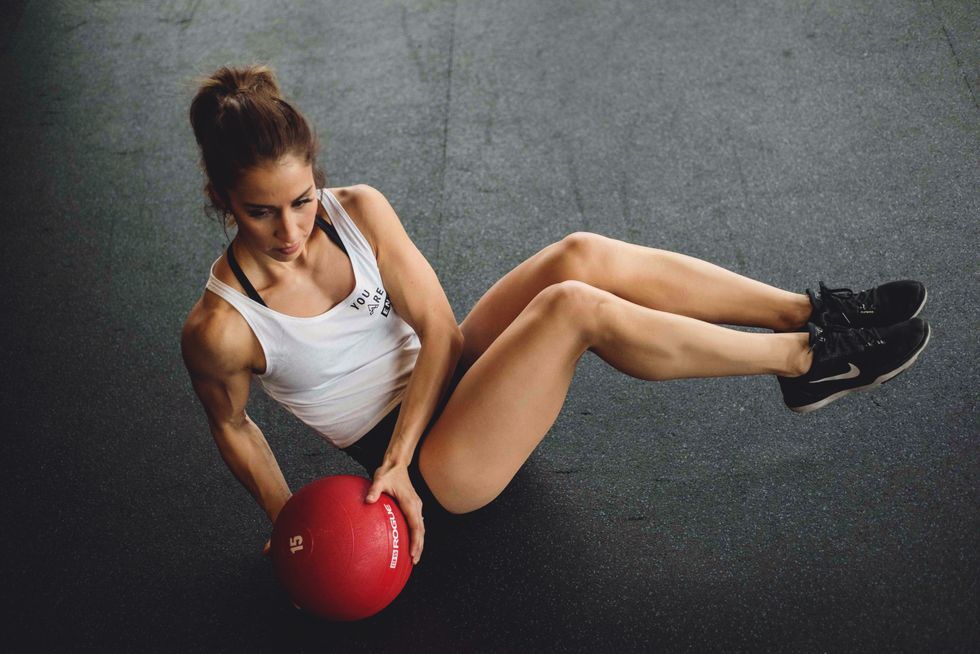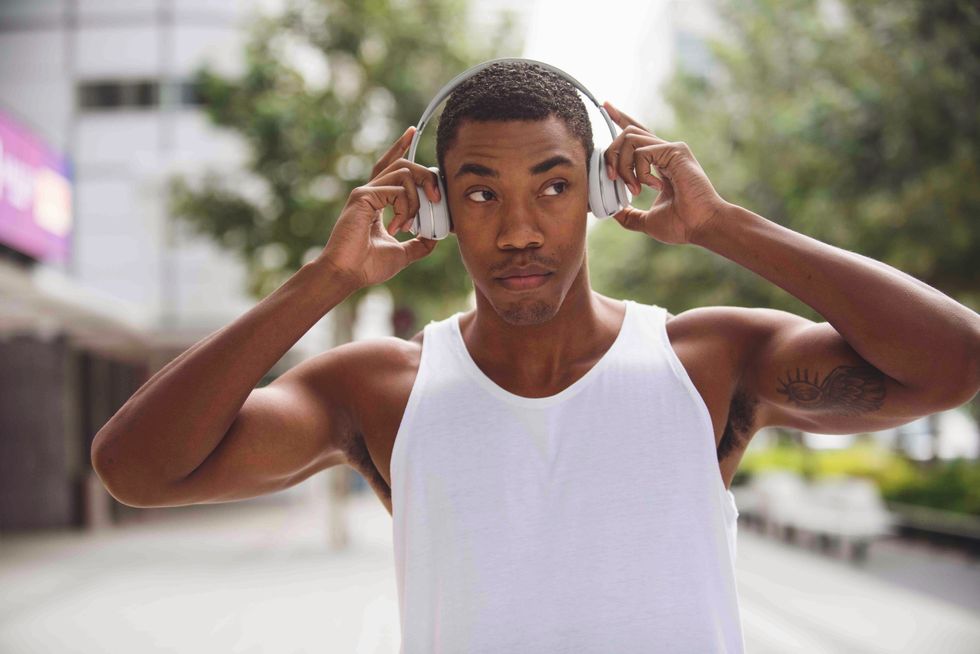 InnovationMap: Originally, what did you want to be when you grew up?
Megan Eddings: I was born and raised in Rhode Island. I left for school in Virgina, and I majored in chemistry and worked in the science labs at the University of Virginia and would also work in the summers at Brown University. I thought I wanted run my own cancer research facility, but I remember one summer leaving my job at Brown and thought, "I cannot do this for the rest of my life, confined to one room," Even though I loved it, I was too social for that.
IM: Why did you move to Houston?
ME: A friend of a friend told me about medical sales, so that brought me to Houston. I used to sell MRI machines and CAT Scan machines to hospitals. I was supposed to do that for two years then move back home to Boston, but here I am 14 years later. I love it here.
IM: How did Accel Lifestyle come about?
ME: When people make a change, they do it usually for two reasons. There's a problem that's drawn you to make a change and create a solution, or there's the emotional change that gives you the courage. Six years ago, I was at a lunch meeting, and I got a call that my dad had passed away from a heart attack. I flew home that day. I gave the eulogy, and the following week, after the shock wore off, it dawned on me that I hadn't mentioned his job even though he had been at his same company for over 30 years. It just didn't matter. It only mattered how he made people feel, his humor, how he loved food. I decided that day that whatever I do — work, volunteering, working out — I would give it my all. I also decided that I would start my own company or work for myself in a way that combines all my loves: science, fashion, fitness, and giving back. I didn't know what that was going to be, but now I know it was Accel Lifestyle.
IM: When did you realize there was a need for your product?
ME: My husband was doing crossfit in the mornings, and I was washing his workout clothes, specifically his shirts. I couldn't get the smell out ever, and I tried extra hot cycles and different pods, and I even had a washer machine repair guy come out to the house to make sure it wasn't broken. I knew enough about science that something wasn't right here, and I started researching. The issue I found was bacteria that mixes with the sweat and gets trapped in the material — and bacteria love thin, lightweight workout clothes. So, now that I knew what it was, I looked into what's out there. I was also realizing how much clothes are made in sweatshops — I hadn't really noticed before. About three years ago, I decided I wanted to develop fabric that doesn't hold that smell and that every fiber, down to the tag, will be made in an ethical way.
IM: What was your first step?
ME: I didn't know how to develop fabric, so I ended up calling someone I found on the internet who is in the business. We became close friends, and I asked him for advice and recommendations. It's about relationship building; you just tell people what you're trying to do and they get excited for you and want to help. Type A women don't like to ask for help — it's a sign of weakness. But I learned that asking for help got me more than help — it cultivated relationships too.
IM: What were some of the challenges?
ME: I know from experience now that when you're starting something up it will take so much longer and cost so much more than what you think it will. It's taken us three years and five iterations to develop the fabric. We had each tested by a lab the government uses for its own purposes. But because the fabric was delayed, it actually gave me a chance to develop other parts of the company — marketing, branding, etc. Everything happens for a reason.
IM: What stage is Accel at right now?
ME: The fabric is now patent pending in over 120 countries. I did a Kickstarter campaign last summer, and we met our goal of $25,000 in 6 days. Another thing was that I wanted to ensure the factories I was working with were ethical, and that meant going to tour their sites and look them in the eye. Most sewers are female. So, I wanted to make sure those women were treated right by the men.
IM: What are some the goals you have for the company?
ME: I'm starting with men's and women's shirts, however, I've got world domination baller plans. I always tell people when they ask me about my plans, "have you heard of Lululemon?" I want a full fitness line — sports bras and yoga pants. I also just want to keep motivating people to conquer their dreams through speaking engagements around town.
IM: Where did the name come from?
ME: I majored in chemistry, my husband, Kyle, majored in physics. We were sitting on the couch one day thinking of what I wanted to do with my company. And I knew i wanted to accelerate people's lives with the company. So we took the word Accelerate, and shortened it. Got the trademark, there we go.
IM: What's your timeline?
ME: If you would have asked me that question two years ago, I would have thought we'd be launched with 20 pieces of clothing right now. By the second quarter of next year, we will be launched. Our new website will go live in December. I'll be shipping all shirts to all our Kickstarter backers by February, and then by March, you would be able to go online, buy the shirts, and have them shipped to you in a few days.
------

Portions of this interview have been edited.