Local architects design projects to impact Houston's future
Mar 28, 2019, 8:14 am
Gensler's ByDesign group dreams up innovative real estate projects that solve Houston problems — like a tower that can absorb and filter water from a flood. Courtesy of Gensler's ByDesign
When the working day is done, there's a group of young architects who, rather than closing out their design programs and hitting happy hour, continue to design and innovate projects. Only, they aren't doing it for clients or money.
Gensler's ByDesign organization, which was created about four years ago, is an extracurricular of sorts for Houston's young architects. The projects are created and presented by the architects and are impact-focused, seeking to provide a solution to a problem in Houston.
"As architects and designers we are so caught up in our work, that we forget to step back to evaluate the current conditions of our own backyard," says Jong Kim, technical designer at Gensler. "It is important to illustrate our thoughts and share them with the public to better inform others, and grow ourselves as future thinker and leaders of tomorrow."
The design studies range from buildings to smaller range projects — but all are focused on thinking critically and creatively.
"Although the ideas range from bold city redevelopments to transformations of underutilized but highly visible areas, the site selections and design solutions are a direct reflection of the personalities and passions of the design team members," says Kim.
The architects presented four projects at a ByDesign social on Tuesday, March 26.
1520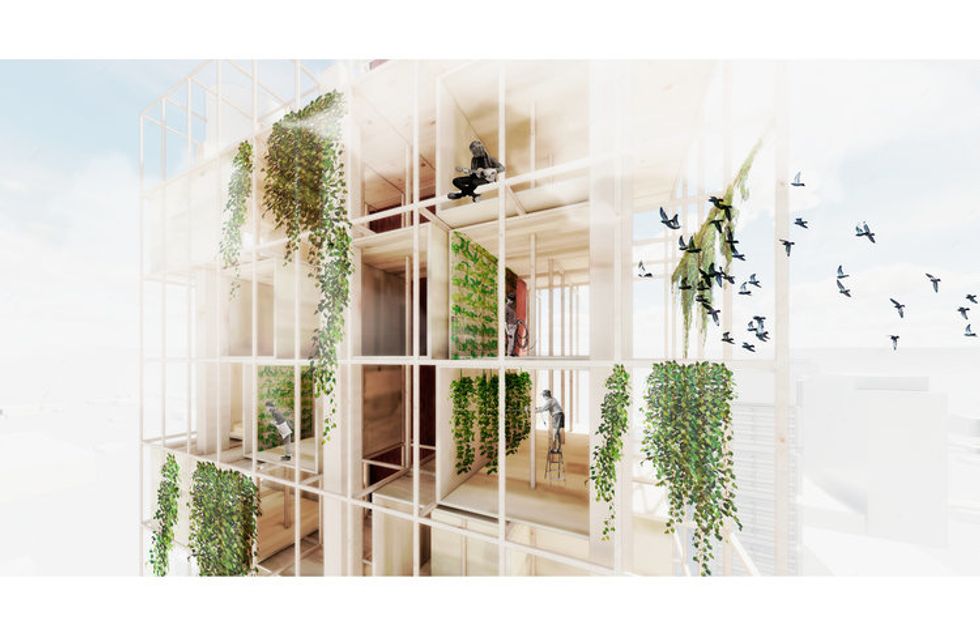 Courtesy of Gensler's ByDesign
As cities expand and populations grow, having access to locally grown produce is becoming a challenge. Currently, 15 to 20 percent of produce is grown in an urban setting. To make sure Houston maintains its access to fresh foods, Gensler architectural designers Shawn Conte and Mark Talma have designed 1520, an urban farming tower of sorts.
The modular tower would have community gardens and low-income housing on the higher levels of the tower and a farmers market on the bottom floor. The space could even host events, with the goal of connecting the community. The project also suggests using hydroponic farms, which is a method of farming produce indoors without the need for soil.
The Brutus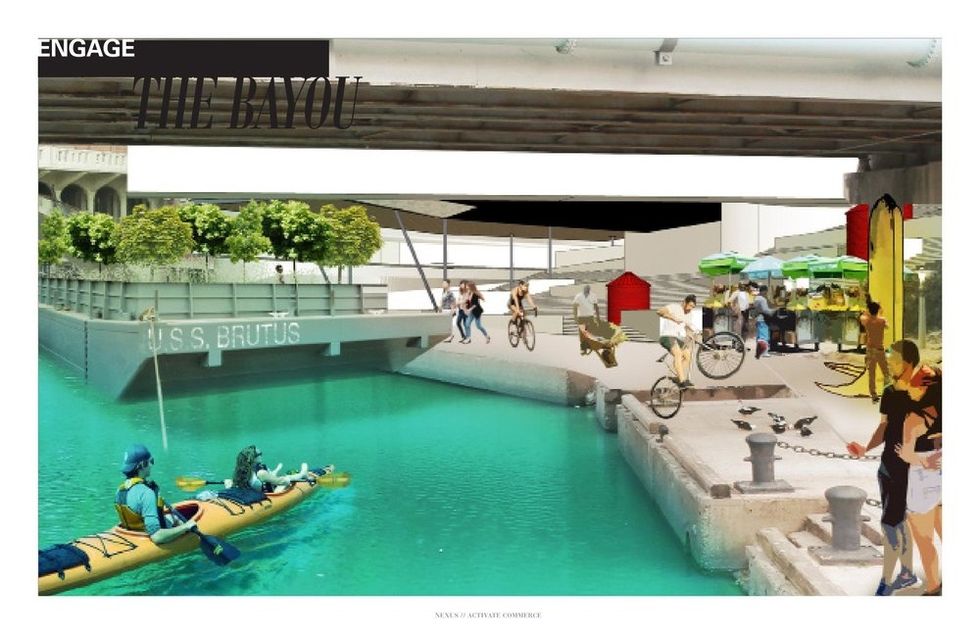 Courtesy of Gensler's ByDesign
Allen's Landing is the designated birthplace of Houston, but currently the space is occupied by an abandoned building right off Buffalo Bayou. A ByDesign team — with members Sasha Levine of LEVCOR; Nathan Thomas, Jason Ficht, and Alex Hill of DesignWorkshop; and Jong Kim and Ryan Marchesi of Gensler — thinks it could foster a more engaging project.
Named The Brutus — after one of the first vessels to pass through Houston's early port — the project would also be the first of its kind. The Brutus would be a multi-purpose project with a food barge, urban beach and pool, kitchen area with food carts, a terrace, and a park. The space would be built to flood, since the area was hit by several feet of flooding.
The team also pitched the project idea at the spring 2018 Rice Design Alliance Charrette.
Fil Trat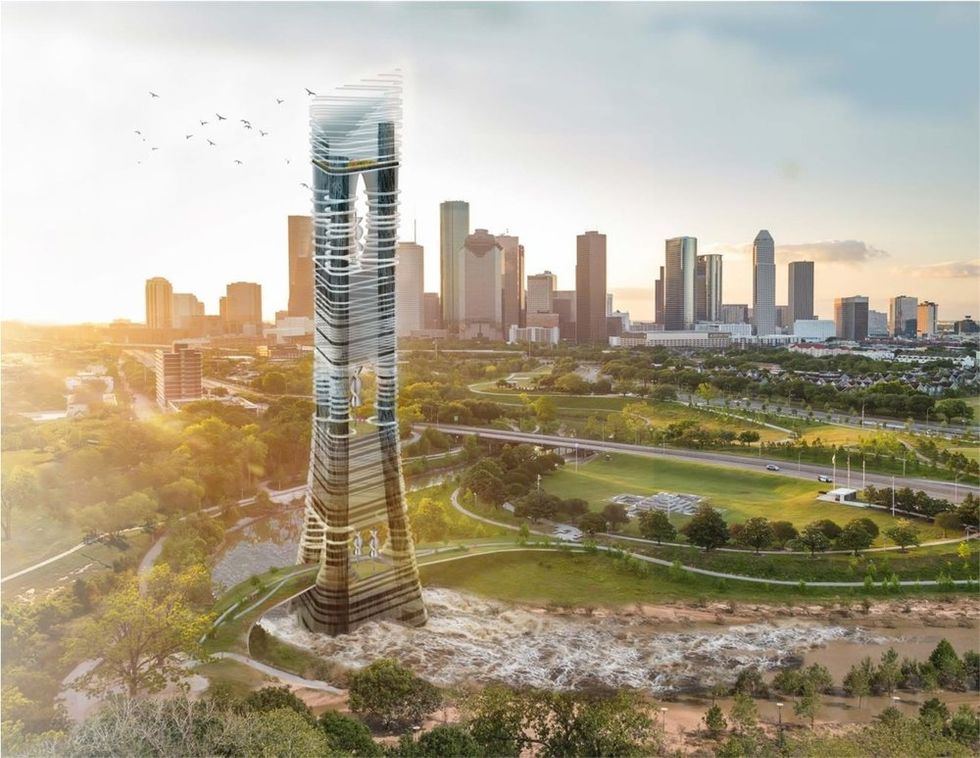 Courtesy of Gensler's ByDesign
In the wake of Hurricane Harvey, many Houstonians began to think of solutions for the next time Mother Nature struck with her full-force of flooding. Gensler designers Chelsea Bryant, Jordan Gomez, Luisa Melendez, Barbara Novoa, Benjamin Nanson, Maria Qi, and Melinda Ubera created a solution called Fil Trat. The tower can absorb, filter, and store flood waters until the bayou is ready for the water to be released — cleaner than it was before.
During Harvey, thousands of people were displaced, but Fil Trat has a solution for that too. The tower's floors would alternate between filtration floors and shelters, which could house up to 24 families per floor.
While the suggested Houston locale would be by Buffalo Bayou, the group suggests putting the tower in other coastal cities at risk of devastating flooding.
Pushover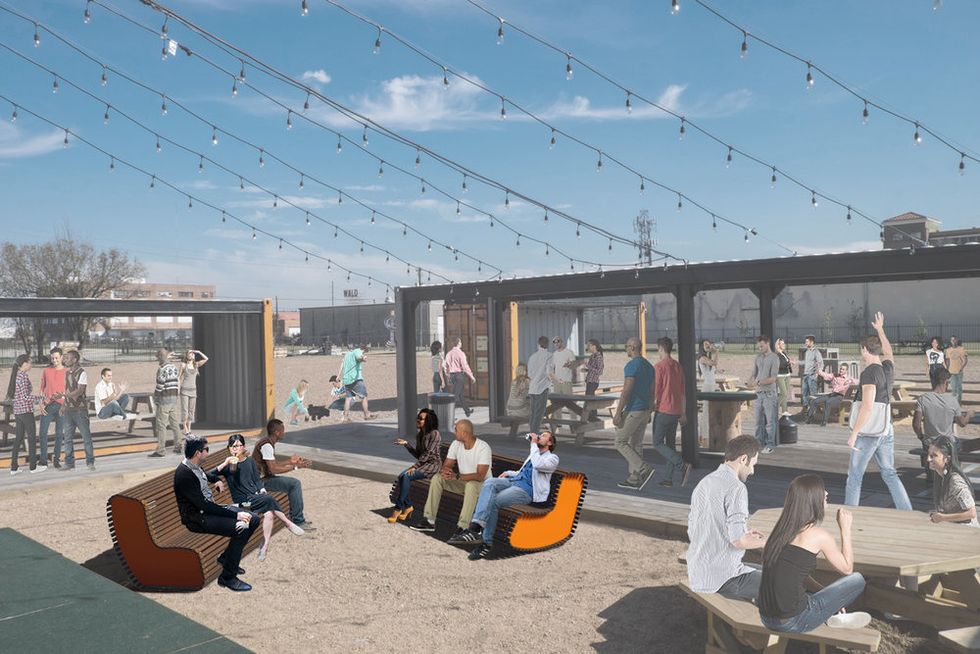 Courtesy of Gensler's ByDesign
While some of ByDesign's projects are grandiose and yet-to-be built, one group's design is already a reality. Gensler's Aaron Bisch, Kevin Perks, Paul Li, and Steven Banovetz created Pushover — a solution to all the issues with normal benches.
The Pushover bench takes the material and aesthetic of normal bench slats and wraps the material completely around the form, which is modeled after the human shape. It's optimized for flexibility and interaction.
The bench — which the team members constructed themselves — currently resides at 8th Wonder Brewery. The team asked to borrow the chair for the ByDesign presentation, and 8th Wonder obliged — as long as the team brought it back.
Check out this video on Gensler's ByDesign group
"ByDesign Grassroots Video" by Gensler Texas on Vimeo.